Raymer en Negreanu maken ruzie!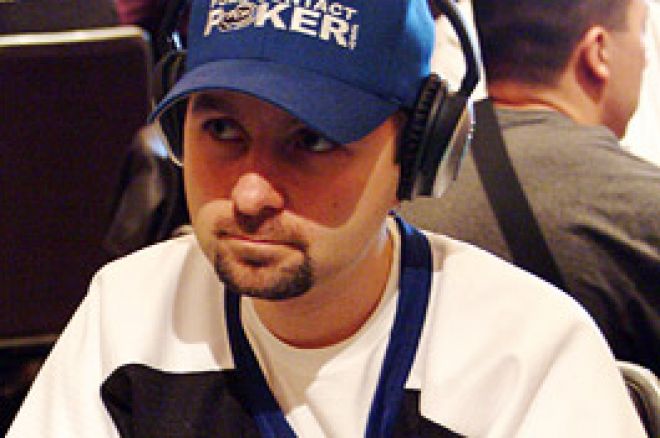 Daniel Negreanu en Greg Raymer maken ruzie, en dan nog publiekelijk ook. Het gezeur tussen de twee begon toen Daniel Negreanu openlijk kritiek uitte op de zeven spelers die de WPT willen aanklagen (zie hier) via zijn video blog. Hij uitte zijn irritatie betreffende hun timing en de reden voor de aanklacht. Hij zei dat hij het allemaal belachelijk vond en dat de zeven spelers een grote fout maken die niet alleen gevolgen zal hebben voor henzelf maak ook voor alle andere poker spelers. De mensen van de WPT zullen de zeven belachelijk maken en door het slijk halen en iedere kans aangrijpen om te bewijzen dat Chris Ferguson, Andy Bloch, Howard Lederer, Joe Hachem, Greg Raymer, Phil Gordon, en Annie Duke wel degelijk bij andere poker sites zijn aangesloten. Betreffende de timing zei hij dat gezien de situatie en de negatieve aandacht die op poker ligt in de rechtbank betreffende het verbieden van online poker en home games.
Raymer, één van de zeven spelers die de WPT aanklagen, uitte zijn mening in een chat box terwijl hij bij PokerStars aan het spelen was. Hij zei dat hij blij was dat Daniel uit het Main Event lag, en dat Daniel zich als een echte eikel had gedragen de laatste tijd. Hij vroeg zich zelfs openlijk af of Daniel gewoon dom was of gewoon een trekpop van de WPT.
Nadat iemand de chat log had gepost op het Daniel's poker forum, gaf Negreanu antwoord in zijn video blog. Hij benadrukte wel dat ze altijd vrienden zijn geweest en nooit onderlinge problemen hadden gehad.
Negreanu leek aangeslagen door Raymer's commentaar, maar zei in zijn video blog; "Now I see where we stand, bro. Obviously he takes offense to the fact that I think the lawsuit they're filing is horrible for poker. I think they're making a grave error not only for themselves, but more importantly, for poker's well-being."
Hij vervolgde:"I never called you any names, never said any bad things about you, I wanted to, because I felt like your comments were out of line. You said I'm either stupid, or a sock puppet for the WPT. I did study the case with the help of lawyers. I don't understand it, but they explained it to me in layman's terms for us dumb folk. From what I can see, you don't have a shot, you're not going to win, and I'm not going to support the players, the 7 of you who think you are representing the players – you're not. I could name 30 players I've talked to that don't think this is a good idea – that this is a bad idea and that it's bad for poker. "
"I'm confident that you can't win, and even if you do win, it won't matter. The damage will be done to the WPT, and to you in general. I don't see anything good coming out of this.
Negreanu vond de manier waarop de zeven Lyle Berman, de oprichter van de WPT behandelden.Hij vroeg de spelers dan ook: "How quickly do you all forget what you were before the WPT was around? The DVD's you sell, the sites you're associated with, the residual income, before the WPT you didn't have any of that. They're the hand that fed you."
Raymer gaf antwoord in de twoplustwo forums, en ontkende dat het aanklagen van de WPT online poker in gevaar zou brengen. Ook zei hij dat hij en de zes anderen niet verkeerd bezig waren en wel degelijk het beste willen voor alle poker spelers. Hij zei op het forum: "The players are paying all the legal bills, and there is not a single online site that is involved in any way whatsoever. We have publicly stated, and we sincerely mean, that we will not accept any settlement that only serves our personal best interests. We will not settle unless the WPT agrees to change their deleterious and illegal practices with respect to ALL players who enter into WPT events. So, while we are doing this for ourselves, we are also doing it for all of you who do already or might in the future play in WPT events."
Raymer was het ook niet eens met de statement dat ze nooit zouden winnen. Hij schreef: "It is my personal opinion, as a lawyer who studied antitrust law in Law School, that the WPT is violating the law. Much more importantly, it is the opinion of our attorneys, who are the preeminent sports antitrust lawyers in the world, that the WPT is violating the law."
Nadat Negreanu de zeven spelers openlijk had bekritiseerd zette Raymer zij kritiek nog extra kracht bij door te zeggen: "Daniel did not go to law school, nor even to college. He knows nothing about the law, and has never studied it. However, he is openly and continually expressing his opinions about the lawsuit to the public. He knows or should know that his doing so will tend to turn at least some of the public opinion against the plaintiffs. And he knows or should know that his legal opinion is worthless, since he has zero training or experience in the area of antitrust law. Therefore, he is either stupid for repeatedly expressing an [sic] worthless opinion, or he is acting at the request of the WPT or one of their agents. Hence, I said he is stupid or a sockpuppet. I really don't see how there is a legitimate 3rd option."
"So, while there are very good reasons why I should have kept my mouth shut about Daniel and just continued to ignore him, I failed to do so. However, I have no problem with what I said. For some reason Daniel has decided to attack the 7 of us who are trying to help every player in the poker world, and I find that very distasteful. As far as I know, he never came up to any of us and asked us why we were doing this. As far as I know, he immediately decided (on his own or with the prompting of the WPT) that we were wrong, and went after us. I thought Daniel was smart enough to understand that maybe he should educate himself on an issue before jumping to (and publicizing) a conclusion. Maybe I was wrong."
Terwijl Negreanu nog steeds een bittere nasmaak in de mond over wat Raymer heeft gezegd, bood Raymer later zijn excuses aan; "I was wrong to insult Daniel. Whatever my feelings, I should have kept the negative comments to myself. They don't help me or the cause we are fighting in this lawsuit, and they might have been hurtful to Daniel. For that I am sorry, and I do apologize." Daniel bood ook zijn excuses aan, en uitte dat het niet opschoot om elkaar zo te bejegenen. Nu is dit misverstand dan wel bijna opgelost, maar de rechtzaak die heel wat stof zal doen opwaaien is nog niet eens begonnen.
We zullen zien of de WPT rechtszaak gunstig zal uitpakken voor poker spelers over de hele wereld. Het is in ieder geval een erg emotioneel onderwerp voor velen. In een wereld met internet en open communicatie kunnen dingen ook erg snel escaleren. Of het rustig wordt tussen Raymer en Daniel zullen we moeten afwachten, en of deze ruzie alleen maar meer olie op het vuur gooit zal nog moeten blijken.