LEDERER: "Fricke is a freak and a weird dude...."
Jimmy 'Gobboboy' Fricke wilde gesponsord worden voor de Aussie Millions en benaderde daar FullTiltPoker. Hij stuurde daarvoor het volgende mailtje: "Hi, I'm Jimmy Fricke, and I took 2nd in the Aussie Millions tournament last year and received a large amount of television coverage. I'm coming back for all the tournaments this year, and was curious if FullTilt would be interested in sponsoring me in some of the events or maybe the main event in exchange for wearing full tilt gear and maybe some other things."
Jimmy wordt op een nette manier afgewezen: "Thank you for your interest in becoming a member of Full Tilt Poker. Unfortunately FTP does not take open solicitations from players wishing to join the team." Prima mailtje in het kader van 'Bel niet ons, bellen wij u ook niet!'.
Op zich nog niets aan de hand, totdat blijkt dat het mailtje ge-forward is en hij de reactie van Howard Lederer ziet:
"From: Howard Lederer
Sent: Sat 11/3/2007 7:21 PM
To: Robert H. Wolf; Ray Bitar
Cc: Jason Newitt
Subject: RE: Aussie Millions. (KMM4237266I19928L0KM)
The guy's a freak and a very weird dude. He is also quite young. I think we should stay away.
Howard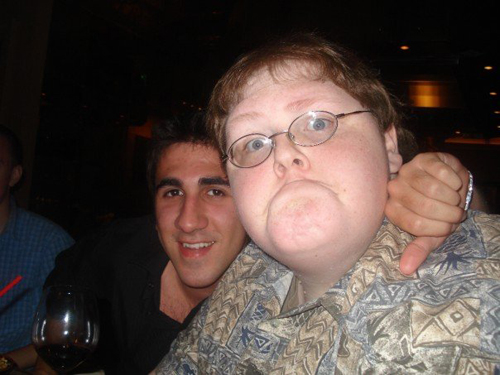 Tja... en daar wordt Jimmy niet vrolijk van! En hij stuurt Howard rechtstreeks een mailtje: "You should probably tell your employees not to send out correspondence with you when they're rejecting an offer from someone. Seems like it'd be bad for business. Professionalism first, eh? Look forward to playing in your tournament."
Uiteraard moet mama Fricke (gobbomom) ook reageren: "My reaction to this is that I can't believe Jimmy had the guts to not only ask them, but to post this response here. I'm glad the majority of everyone in this thread supported him. I also can't wait for the day Jimmy gets to rub Howard's face in this."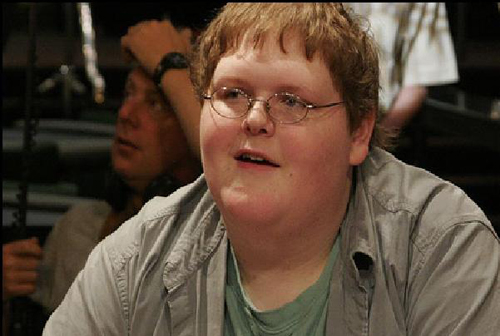 Dan heeft Howard in de gaten dat hij mis zit:
ATTENTION.
"I just received an apology letter from Mr. Lederer himself. He asked to keep it private, so I won't be saying anything other than the fact that he sent it and I accepted. He regrets saying what he said and said some other nice things. I think this thread has run its course now.
T-minus one hour until bacon sushi."
TonyG is even niet te vinden bij livetoernooien
Tony G is er uit: hij gaat wat aan zijn figuur doen. "Stand in front of the mirror and take a look. If you think the front view is…umnnn…OK, just take a look from the side view, and if that's scary, spare yourself the butt shot."
Hij voegt daad bij het woord, je kan hieronder het filmpje bekijken.
David Benyamine $6.5miljoen down??
Photoshoppen is niet zo moeilijk, daarom is het lasting vast te stellen of onderstaande chat wel aan David toegeschreven kan worden: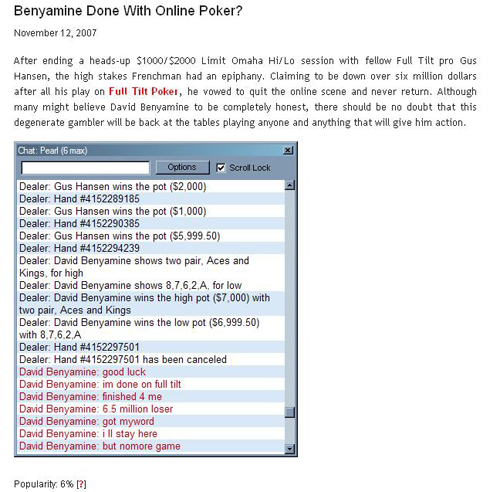 Nog iets waar Howard Lederer niet blij van zal worden, maar goed: als je echt 6,5 miljoen dollar in de min staat, kan je wel spreken van een downswingetje.
High Stakes Golf: Hole 17
Shawn Sheikan lijkt terug te komen door eindelijk goed te gaan putten en Gavin Smith krijgt advies van Daniel Negreanu, maar of het verstandig is om dat op te volgen…. "Thanks Daniel.. you cocksucker!" Gavin Smit wil voor de laatste hole extra actie… de sidebets zullen hoog zijn waarschijnlijk!
Biggest Pot on High Stakes Poker ever!
De grootste pot van High Stakes Poker tot nu toe is gespeeld tussen Jamie Gold en Patrik Antonius. Antonius raist preflop met


naar $4.000 en Jamie Gold raist naar $14.000. Antonius callt en de flop komt:



. Antonius checkt en Gold bet $15.000 met een overpair. Patrik called met een overcard en een gutshot straightdraw. De turn is de

en Gold heeft top set en Patrik de nuts: Ace high straight.
Antonius bet $45.000 en Gold gaat all in voor $341.500. Antonius callt insta uiteraard waardoor de pot op $743.800 komt. "Unbelievable, but what am I going to do, right?" zegt Gold.
Zoals vaker worden er deals gemaakt, 'running it twice' is een veel gehoorde kreet in HSP. In dit geval wordt de river drie keer gedraaid. Ongeveer $250.000 per keer dus…
De eerste keer komt er een

op tafel: Jamie Gold krijgt een fullhouse!
De tweede river is een

, wederom een fullhouse voor Jamie Gold! "Haha! Wow!" roept Jamie en Patrik Antonius blijft onverstoorbaar zitten. De laatste river is een

en gelukkig pakt Patrik nog een derde van de gigantische pot.
AJ Benza reageert met: "I tell you one thing: Patrik can take a punch. Imagine if that was Phil Hellmuth…"