Isaac Baron wil wraak - Webjoker's Rampage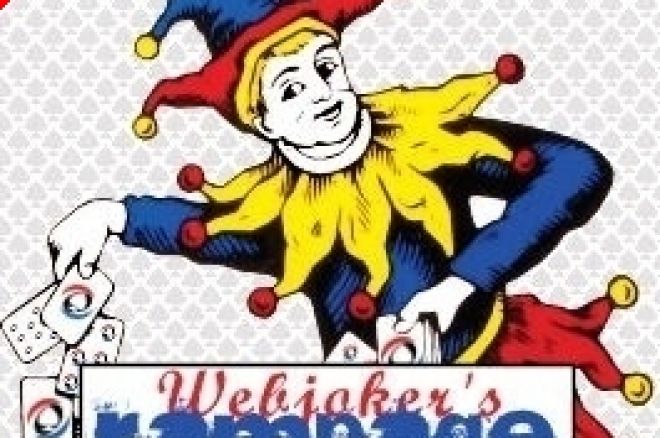 Isaac Baron kennen we allemaal als "WestmenloAA". Als pokerspeler doet hij het best aardig. Toernooitje online hier, sessie 50/100 daar en tussendoor nog een EPT finaletafel. Dat is ook waarschijnlijk de reden dat hij in een mooi huis woont en een mooie auto voor de deur heeft staan.
Maandag 22 september zit hij lekker thuis te chillen als de deurbel gaat. Iemand van het bouwbedrijf aan de overkant heeft een cementmolen opgeblazen. Knappe prestatie en al noemenswaardig an sich, maar nu blijkt dat er cement op zijn auto is gekomen. De vriendelijke man belooft alles schoon te maken en er lijkt geen vuiltje aan de lucht.
Maar als Isaac even een broodje wil gaan eten en in zijn Maserati stapt, ziet hij dat zijn zonnedak helemaal kapot is. Hij gaat verhaal halen bij de bouwvakkers, maar de baas is er niet en zou zo terug komen.
So I go grab a bite to eat and come home and the guy from across the street comes up and gets up in my face and starts yelling at me "We didn't break your fucking window" "you aren't going to pull a fast one on me" blah blah blah.
Dat verliep dus enigszins anders dan verwacht. Maar Isaac heeft wel een netjes antwoord klaar:
I told the guy "I'm driving an maserati and own a 2 million dollar house, do you really think I am gonna try and screw you out of a couple hundred dollars,"
Dat klonk wat overdreven maar hij had wel gelijk vond hij. Maar hij laat het er niet bij zitten natuurlijk:
Anyways, because of how unbelievably rude this guy was we are now most likely going to have to take it to small claims court (my car is under warranty so I could get it fixed for free) out of spite. LOL taking someone to court out of spite, I feel like George Costanza... oh well ya gotta do what ya gotta do I guess.
JJProdigy heeft er spijt van
Alweer ja! Josh Field, aka "JJProdigy", is een ziek goede internetspeler die het wel handig leek als hij meer dan één account had. Laat dat nu net verboden zijn en meneer Josh zijn accounts werden een beetje uitgeschakeld door de grote pokersites. Maar Josh wilde gewoon doorgaan met online kaarten want hij kon er een lekkere boterham mee verdienen en dus ging hij verder met zijn Multi-accounting praktijken. Toen ze ook daar weer achter kwamen maakte hij zijn excuses aan de pokerwereld en beloofde hij plechtig dat hij het nooit meer zou doen. Justin Bonomo had ooit hetzelfde gedaan en die werd niet met de nek aangekeken, dus waarom niet, dacht Josh.
Helaas pakte het wat anders uit want hij ging stiekem gewoon door met meerdere accounts en verzamelde een totale waslijst aan gebruikersnamen. Niemand vond hem echt aardig en hij voelde zich rot over de situatie. Hij wilde live gaan spelen op de Bahama's en om daar door iedereen genegeerd te worden leek hem niets. En dus weer een excuus naar de pokercommunity en een optreden bij een poker radioshow. Echt goed pakte dit niet uit en er werd hem vriendelijk gevraagd niet te komen.
Nu blijkt dat hij al die tijd gewoon is doorgegaan en af en toe zelfs met meerdere accounts aan dezelfde final table zat. Dat hij het spelletje doorheeft staat buiten kijf, maar zijn handelswijze is allesbehalve netjes. Nu heeft hij dan wederom zijn excuses aangeboden op de grote pokerfora (behalve PokerNews.nl – heel merkwaardig).
Dat dit niet echt in goede aarde valt bij veel spelers lijkt een understatement, want echt geloofwaardig is het niet meer. De anders zo rustige en vriendelijke Adam Junglen weet wel wat hij denkt over Josh:
"No you won't... because you're ****ed. Do you even know how
****ed you are? I mean you are so ****ing ****ed. I mean I think you are the most ****ed person I know"
Foxwoodsfiend daagt StevesBets uit
Ariel Schneller (ook wel bekend als meneer "Foxwoodsfiend") kreeg te horen dat Steven Jacobs (ook wel bekend als "StevesBets") hem een slechte speler vindt. Dat laat de stoere fiend van Foxwoods natuurlijk niet op zich zitten en dus daagde hij hem uit voor een heads-up sessie:
Hey Steve, I noticed that you felt like posting in comments to talk trash and continue to assert that I'm an awful poker player. Given that you think I'm awful and I think you're awful, I would like to challenge you to a match. […] So, basically you have two choices: play me or admit that you're a pathetic joke of a poker player who runs off at the mouth and never backs it up. Looking forward to hearing from you in comments.
Zowel in de commentaren als op de weblog van StevesBets zelf bleef het stil helaas. Wie weet komt er later een vervolg als de heren daadwerkelijk 50/100 en 100/200 gaan spelen.
Ilari "Ziigmund" Sahamies' chatoverzicht
We hadden StevesBets al en ook Mike Matusow kwam al langs in Webjoker's Rampage. Nu kan je denken dat het een keer leuk geweest is met die chats van de profs maar dit moest er toch nog even in. Ilari "Ziigmund" Sahamies kan er namelijk ook wat van. Een overzicht van de chatsessies van de afgelopen maanden:
• David Benyamine
Ziigmund: your wife is in very good shape
Ziigmund: she is nice too
Ziigmund: so she is very much unlike you
Ziigmund: joking man
Ziigmund: u r cool
• Gus Hansen
Gus Hansen: you cant get lucky every time
Ziigmund: fcuk u r retard
Ziigmund: how u can say so?
Ziigmund: u had again 6 out
Ziigmund: f tilt retard
Gus Hansen: wauw
Gus Hansen: ups
Ziigmund: really i mean
Ziigmund: everybody says how bad u r
Ziigmund: its f omg
Ziigmund: what do u think....all big pots what that retard has won......he has been always so much underdog
Ziigmund: 18k pre
Ziigmund: then all in
Gus Hansen: ups
Ziigmund: look at this f bull s hit
Ziigmund: hey gus
Ziigmund: how u think
Gus Hansen: yes
Ziigmund: u r f retard
Ziigmund: FU
Ziigmund: FU
Ziigmund: FU
Gus Hansen: im starting to like this game
Ziigmund: everybody see how f retard that guy is
Ziigmund: gus is fish
Ziigmund: so f bad
Ziigmund: and looks like chec republic man
Gus Hansen: you might lose a coin flip one day Ziggy
Ziigmund: gus is from czech rebubplik
Ziigmund: from ROMANIA HE IS
Ziigmund: gus likes eurovision
Ziigmund: gus should sing in eurovision..team chez romanisa
Ziigmund: gus is singer from romania
Ziigmund: czech rebuplic singer from eurovision gay bar GUSTAV HANSEN
Gus Hansen: no i dont think so
Ziigmund: Uncle Gustav
Ziigmund: Gus romanian eurovisionsinger Hansen cant play poker
Gus Hansen: dont cry Ziggy
Ziigmund: Gustav "RAZZKING" Hansen
Ziigmund: Gustav likes to sing karaoke with his gipsy friends
Ziigmund: Gustav likes to sing karaoke with his gipsy friends
• Trex313
Ziigmund: wp f idiot
trex313: shut up crybaby
Ziigmund: fu
Ziigmund: f retard
trex313: hey zig
trex313: i'll play you HU
Ziigmund: it was funny to look when trex thought 45 sec and decided to move in with his hand
Ziigmund: f moron
trex313: HU anytime
Ziigmund: ok im waiting
Ziigmund: im waiting f retard
Ziigmund: lol
Ziigmund: kill yourself f retard american
trex313: thank you rail
trex313: tell this clown to go home
Ziigmund: u should be your countrys president....same skills same intelligence
Ziigmund: trex?
Ziigmund: so u ask lets play hu and only game what u play is no limit,right f muppet?
trex313: i already told your muppet @[email protected]
trex313: 1 2/4 PLO and 1 3/6 NL
trex313: i don't even play PLO
Ziigmund: R u typical american.....fat ,lazy and totally idiot?
trex313: i'm playing you cuz you're just that bad
Ziigmund: heh
Ziigmund: everybody
Ziigmund: come to look when stupid lazy american lose his money in mixed game 300 600
Ziigmund: everybody come to look
Ziigmund: trailpark trash
Ziigmund: call to dr phil f moron
trex313: where do you get your insults
trex313: they're kinda bad
trex313: and not funny
Ziigmund: in my mind
Ziigmund: could i ask 1 question trex?
trex313: no
Ziigmund: just 1?
trex313: save it for your mom
Ziigmund: r u f totally retard american?
• Cole "CTS" South
Ziigmund: as gay as u look
Cole South: lol
Ziigmund: lucky ***
Ziigmund: come to 200 400
Ziigmund: i was favourite
Cole South: looks like uve been havin a good month
Cole South: hows it goin
Ziigmund: im losing like 800k
Cole South: good to hear
Ziigmund: coem to 200 400
Cole South: maybe learn some manners
Cole South: and karma wouldnt bone ur &%#
Ziigmund: gay boi
• Observers
TonyBliar (Observer): ziig why did u hitnrun whitelime?
Ziigmund: because im going to eat and i canty play no limit
Ziigmund: why u ask so f stupid questiosn
Ziigmund: u have to be american,only usa people r so stupid
Ziigmund: BUSH IS SO F CLEVER U RETARDS
Ziigmund: americans dont know where is finland u retards fat idiots
bostongary (Observer): you are an ashole
Ziigmund: bostongary…..u know only where is boston…fcuk your fatmom f idiot
bostongary (Observer): what english are you speaking you moron?
Ziigmund: bostongary u f idiot rail
Ziigmund: take job retard
• PeachyK33N / ADZ
Ziigmund: lets play 300 600ringgamr
PeachyK33N: what
PeachyK33N: speak english
Ziigmund: fu
• Over Thomas Wahlroos
Ziigmund: Thomas "My father has more money than u" Wahlroos
• Phil Ivey
Ziigmund: Phil lets go to Ivey thunderdome just 1 flip there
Phil Ivey: nope u made fun of my rapping abilities so now i am not going to do it
Ziigmund: Smile
Ziigmund: me neither
Phil Ivey: lol
Ziigmund: why u r so rude phil
Ziigmund: i m not so rich
Phil Ivey: lol
Ziigmund: next time when i come to vegas someone beatbox and we battle..u english me finnish
Phil Ivey: lol
Ziigmund: 500k
Phil Ivey: i spit up my drink
Ziigmund: texasdolly is the referee
• Over Patrick Antonius
Ziigmund: Patrik "I need proteinshake everymorning" Antonius
• Steve Zolotow
Steve Zolotow: lucky but price was gd
Ziigmund: fu gay fulltilt pro
Ziigmund: u r so bad
Ziigmund: just do hit run
Steve Zolotow: & u r so gd
Ziigmund: thats what u can do
• Aeron73
Aeron73: ups
Ziigmund: shut up moro
Ziigmund: n
Ziigmund: hope u die
Aeron73: thats not very nice
Ziigmund: f u
Dealer: Aeron73 is sitting out
• Urindanger
Ziigmund: Ching chong
Ziigmund: Ching chong
Ziigmund: Ching chong
Ziigmund: hope u doie f godngodong
Urindanger: can u rebuy full
Urindanger: plz zig
Urindanger: thanks
Ziigmund: fu moron chin
Urindanger: it's chink.
Urindanger: learn to spell
Urindanger: chin. wtf
Ziigmund: what chink means?
Ziigmund: i didnt mean that word
Ziigmund: r u asian?
• Over Martin de Knijff
No limit with 100/200 blinds really isn't my thing... but as long as Martin de Knijff is playing too, we should all be fine.
• Bigwinner02
bigwinner02: THIS TOO EXPENSIVE FOR ME I TOOK A GAMBLE
Ziigmund: gg then galfodn
bigwinner02: I WILL KEEP PLAYING AT 100/200 IF YOU WANT
Ziigmund: no
Ziigmund: i hope u die
Ziigmund:
Ziigmund: f idiot
bigwinner02: ziig i met you in barcelona
Ziigmund: i dont care f retard
bigwinner02: in ept
Ziigmund: lazy ugly yankee
• Tegen Patrick Antonius
Ziigmund: what is this?
Patrik Antonius: 20k flips
Patrik Antonius: your best game
Ziigmund:
• Thomas Wahlroos
Ziigmund: OWNED tilted wolruus
Thomas Wahlroos: next time you go broke dont ask me for money ok?
Ziigmund: ok
Thomas Wahlroos: f ungrateful piece of sh it
Ziigmund: owned
• Luck123
Luck123: Hi everyone
Ziigmund: f u luck
Die laatste is natuurlijk het allermooiste. Ilari houdt ook wel van een drankje en nam er een video van op:
Ook een potje worstelen is voor de Finse high stakes speler geen belemmering:
Tijdens de EPT van Barcelona zat hij langere tijd aan tafel bij Michiel Brummelhuis maar kon helaas geen potten breken. Even nadat hij verplaatst werd naar een andere tafel bustte hij terwijl hij het er met de beste hand in kreeg. Op een bankje in het casino lagen diverse Aziatische mensen te slapen (in het casino ja) en Ilari en zijn vrienden probeerden ze te laten schrikken en maakten video en foto opnames van het voorval. Wat een deugnieten!