De meest invloedrijke twitteraars van de Nederlandse pokerscene (volgens Klout.com)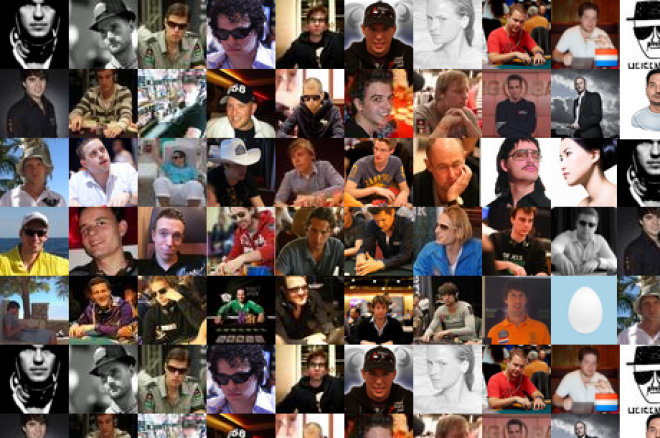 Vorige maand verscheen er een artikel met daarin de top 10 van de grootste social media spelers uit de pokerwereld. Negreanu ging aan de leiding, gevolgd door Phil Hellmuth, Phil Ivey, Howard Lederer en Erik Seidel. Enkele dagen geleden kwam dezelfde website met een aangepaste versie, gemaakt door Social Media goeroe Kevin "kevmath" Mathers. Daarin was er plaats voor Matt Savage, Jean-Robert Bellande en Jack Effel.
De eerste analyse was gemaakt met behulp van Klout.com, een tool op het internet waarmee je de invloed van jezelf en anderen kan meten. De tweede was gemaakt los van de objectieve data van Klout.com. Tijd om te kijken wie er in de Nederlandse scène het meest invloedrijk is. Wij hebben wel de data van Klout.com gepakt en opgezocht welke Nederlandse pokerspelers van zich doen spreken in de wereld van de social media. Maar eerst een kleine uitleg van de Klout website zelf over wat het nou eigenlijk is:
What is Klout?
Klout measures influence online. When you create content or engage, you impact others. Klout analyzes that impact to find your Klout Score, influential topics, and your influencers. Klout is the standard for influence. Top brands such as Disney, Audi, and Turner use Klout Perks to reach and engage influencers. Over 3,000 applications and partners use Klout data to display Klout Scores, prioritize based on Score or topics, and segment users.

What is the Klout Score?
The Klout Score measures influence on a scale of 1 to 100, with 100 being the most influential. Klout uses data from social networks in order to measure:

How many people you influence; (True Reach)
How much you influence them; and (Amplification)
How influential they are (Network Score)

What is influence?
Influence is the ability to drive action. It happens in real-time and in a given topic. You influence others when you convince your friends to go see a movie, share your favorite YouTube video, or start a discussion about the upcoming election.

What's a good Score?
Influence is relative so it depends on your goal and peers. The average Klout Score is not 50; instead, it is around 20. The Score becomes exponentially harder to increase as you move up the scale. For instance, it is much harder to move from a 70 to a 75 than from a 20 to a 25.
Nummer 1 tot en met 10
1. Lex Veldhuis
2. Frank Op de Woerd
3. Remko Rinkema
4. Fatima Moreira de Melo
5. Noah Boeken
5. Boyand Demorrtierr
7. Joep van den Bijgaart
7. Richard Veenman
7. Steven van Zadelhoff
10. Rolf Slotboom
Dit artikel gaat verder op pagina 2 waar we kijken naar de nummers 11 tot en met 20.
---PageBreak---
Nummer 11 tot en met 20
10. Kenny Hallaert
12. Peter Dalhuijsen
13. Marcel Lüske
14. Matthias De Meulder
15. Patrick Renkers
16. Armijn Meijer
17. Pieter de Korver
18. Bas van den Brink
18. Stijn Kruijssen
18. Kevin Vandersmissen
---PageBreak---
Nummer 21 tot en met 30
21. Koen de Bakker
22. Christophe De Meulder
23. Pim de Goede
23. Dimitri van Leent
23. Paul Valkenburg
26. Joris Ruijs
26. Ruben Visser
26. David van der Weele
29. Jorry van Hoof
30. Vincent van der Fluit
---PageBreak---
Nummer 31 tot en met 40
31. Sijbrand Maal
31. Sven Polarski
31. Jorn Walthaus
34. Koen De Visscher
35. Cyriel Dohmen
35. Philip Meulyzer
37. Tobias Peters
38. Paul Berende
38. Oanh Bui
38. Jolmer Meelis
---PageBreak---
Nummer 41 tot en met 50
41. Jasper Wetemans
42. Rob Hollink
42. Shander de Vries
44. Rien Wijermars
45. Sjors Harmens
46. Bryan Ruiter
47. Daniel Reijmer
47. Johan Rensink
47. Bjorn Verbakel
47. Steve Wong
---PageBreak---
Internationale bekendheden
Om te laten zien dat de Klout score niet direct af te leiden is uit het aantal volgers of tweets, maar echt afhankelijk is van het aantal interacties met anderen, hierbij enkele bekende twitteraars. Zoals te zien heeft Joe Sebok met afstand de meeste volgers maar zijn score is niet al te hoog. Dat gigantische aantal volgers heeft hij gekregen doordat hij de oprichters van Twitter kent en zo vanaf de eerste dag bij iedereen als 'suggested user' terecht kwam. Veel van zijn volgers zullen dus inactief zijn. Ook met Doyle Brunson is iets raars aan de hand, in een periode van een maand kreeg hij er honderd duizenden volgers bij. Het vermoeden bestaat dan ook dat de marketing afdeling van zijn voormalige pokerroom (Doyles Room) twittervolgers voor hem heeft gekocht via een website als buytwitterfollowers.org.
Daniel Negreanu
Phil Hellmuth
Kevin Mathers
Doyle Brunson
Joe Sebok