Tweet Tweet, Bad Beat - Jon Aguiar versus Brandon Cantu en heel veel foto's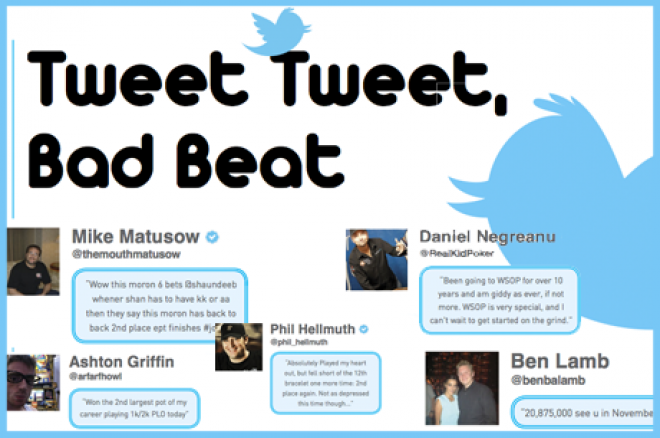 In WSOP Boulevard las je vandaag al dat Jon Aguiar een bracelet heeft gewonnen in Cannes. In het €10.000 Mix-Max toernooi tijdens de World Series of Poker Europe kwam hij Heads-Up uit tegen Brandon Cantu. Dat ging allemaal niet zonder slag of stoot want ze speelden zo lang Heads-Up dat ze nog niet klaar waren toen het casino ging sluiten. Flashbacks naar de MCOP-perikelen kwamen direct in ons op.
Jon Aguiar wilde dag 1B spelen van het WSOPE Main Event en dus werd er besloten dat de Heads-Up match pas verder gespeeld zou worden op het moment dat de twee beiden uit het Main Event lagen. Dat gebeurde uiteindelijk al op dag 1B waarna ze verder speelden. Cantu was duidelijk niet blij met de situatie en uitte zijn frustratie op twitter. Sommige tweets hebben we bij elkaar geplakt, voor het overzicht:
Cantu gaf ook een interview aan PokerNews.com waar zijn frustratie resulteerde in een van de best bekeken video's van de serie:
De twee gingen daarna nog even verder online:
Ook Olivier Busquet heeft natuurlijk weer een mening. En net als Daniel Negreanu steekt ook Busquet die nooit onder stoelen of banken:
Foto's
Iets luchtigers dan! We zagen enkele foto's langskomen en wilden jullie die niet onthouden:
700? 700! Eugene Katchalov had een weddenschap verloren en deed 1.000 push-ups in een dag!