Tweet Tweet Bad Beat - Galfond, Dwan, Selbst en Stealthmunk op Reddit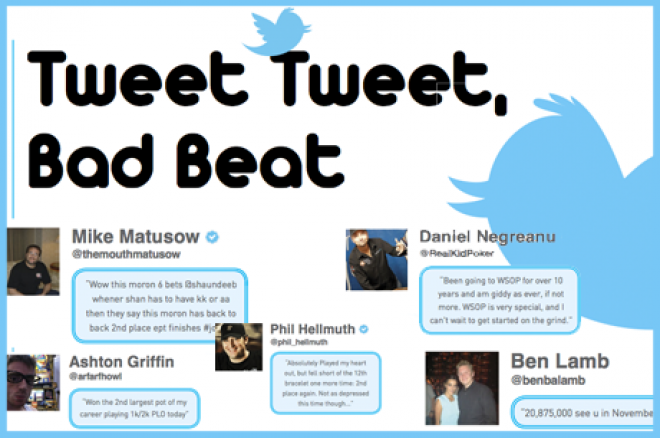 De rubriek Tweet Tweet Bad Beat begon ooit in een tijdperk waar iedereen neer keek op hipsters met Twitter. Dat doen de meesten nog steeds maar toch is het fenomeen social media aardig ingeburgerd. "Social media" is een term die investeerders geïnteresseerd maakt, het is een booming geheel waar iedereen een mening over heeft.
Niet alleen twitteren mensen erop los tegenwoordig, je hoeft ook niet raar staan te kijken als iemand in een restaurant een serie foto's van ieder gerecht maakt waar Joop van Tellingen nog jaloers op zou worden. Instagram, FourSquare, Pinterest en weet ik veel wat nog meer, je kan er niet meer omheen.
En dan is er Reddit. Niet een site die je direct in hetzelfde rijtje zou scharen, maar wel eentje die ontegenzeggelijk zijn invloed heeft op heel veel mensen. De site is immens populair en wordt bezocht door mensen uit alle lagen van de bevolking. Omdat het in de rubriek Tweet Tweet Bad Beat draait om nieuwe media deze week een kijkje op Reddit.
Van niks naar millionaire, en terug
[AMA Request] Someone who made millions and then lost it all
My 5 Questions:

What's your story?
What did you learn about money and relationships?
Did you try and make your money back, and if so, did you succeed?
What do you regret?
If you had advice for someone looking at losing it all, what would you say?
Deze is niet direct poker gerelateerd maar toch lopen we hem even langs. Meerdere mensen die reageren noemen namelijk poker, al hebben ze niet allemaal de miljoenen aanvankelijk gemaakt met poker.
[–]SavageBillah
When I was 24 I had a friend who was playing poker professionally. I had known that friend essentially my whole life, and when he heard I wasn't happy with my job and living situation he offered to pay me $10,000 to quit my job and move in with him so he could teach me how to play poker.

It was an offer too good to refuse, so I quit my job and moved. It only took 3 months for me to double my bankroll and I quickly paid my friend back. I took what he taught me and turned my small bankroll into a large 6 figure sum.

Unfortunately I decided to start a business with some friends, and I got ripped off for a huge chunk of money. At the same time I found out that my entire online bankroll was completely lost to me because some fuckers at FullTiltPoker.com decided they needed huge bonuses.
Because I didn't have enough money to bankroll myself and pay for all of my bills. I eventually lost my house, 2 cars, and my dignity.
Justin "Stealthmunk" Schwartz (1 jaar geleden)
I'm a poker pro, stealthmunk. I've won and lost millions over the past 8 years and have 0$ to my name right now. AMA.
With the biggest poker forum in the world being shut down for over a week I need to get my forum fix so figure I'd try Reditt...and saw veneer's post at the top, so figure I'd post an AMA. I didn't know if it was good ettiquette, but I'll indulge my ego.

I've played Phil Ivey HU 500-1k PLO I've chopped the sunday million for more than first place when i was 17 years old and had the money stolen from me by my mother! I once bet 10k and flew down to Atlanta from CT on a whim in a drinking competition. (Fifth of jack in <20 minutes, video exists somewhere) I've played many live tourneys/highstakes cash games both live/online...no real huge scores other than a couple 70k wins or so on the east coast...bubbled the 10k PLO on a sick beat to a buddy/great player Matt Glantz. Many more stories! Been playing since I was probably 14 or 13? And I'm 23 now, and have seen so many people come and go and see the game change to what it is today. I have 0$ to my name, and owe a decent chunk of money to some friends. Still hopeful I might strike it rich this summer at the WSOP! so AMA
Stealthmunk is echt een mannetje hoor. Als je hem wel eens bent tegen gekomen dan weet je wat ik bedoel. Zo Amerikaans als maar kan. Een idioot zeg maar, maar toch wel grappig. Bipolar dus, genieten!
[–]DreamEvil
What was your biggest purchase you made on a whim, and instantly regretting it a short while later?
permalink

[–]APerfectGent[S]
I never really instantly regretted purchasing anything. I bought my house, and ended up regretting it sort of, so that. I don't like watches, clothes. I buy stuff for other people. I like staying at nice hotels/drugs/parties. When I was 19 or so I paid 2k/night for a balla suite in Atlantis for the PCA and flew down like 10 of my friends and it was a shitshow. I actually played Dario Minieri heads up 50-100NL while completely wasted, with a bottle of vodka in hand at the poker table that I'd chug in between tough decisions. The staff punk'd me and made a fake super cooler straight flush vs quads too lol. PCA was fun times. I was much richer then and poker was much more profitable, you could make like 300k + online in your sleep without even much work ethic if you were as good as I was. Now you have to work much harder.
[–]anonymous7guyupstairs [rangevsrange.com]
You sound crazy, but maybe you're not. What does the future hold for you? What do you plan on doing? What do you think will actually happen?
permalink

[–]APerfectGent[S]
I am bipolar so I guess I am "crazy". I don't know what the future holds for me, too many variables. I don't see myself doing anything other than poker. I just take life day by day. I'll probably end up killing myself though :(. I see a therapist though. Its tough to stay sane/heal yourself when the swings of poker can make you feel worthless/miserable. And recently I've had a lot of bad personal problems in life that I don't want to go into detail in my reditt AMA. I never let it effect my game though. I just stayed 3days at mohegan and played pretty amazing whenever I played. (And lost every big pot too with the best hand obv)
Phil Galfond (1 maand geleden)
I'm poker pro Phil Galfond, AMA (self.poker)
I've been playing poker professionally for over seven years. Though I have $1.8m in live tournament winnings, I spend my time and energy on my specialty: online cash games, where I have over $10m in net profit to date, mostly in NLHE and PLO.

Just under one year ago, I launched RunItOnce.com, and it has since grown into the most respected poker training community online. I am both the company's owner and lead instructor. (Though the videos are only available to paying members, you can get a taste for my teaching style with one I released for free, which can be viewed here.)

I'll be answering questions tonight from 7-10pm (10pm-1am EST). I tend to get a little long winded in my responses sometimes, so I will likely drop in from time to time over the next week to make sure I get to some more questions.
Tijd voor PokerNews.nl heeft hij nog niet gemaakt, maar Reddit liep hij wel langs. Galfond is niet zo entertainend als sommige andere pokerspelers, maar wel een van de grootste pokerminds ooit. Doe er je voordeel mee:
[–]Eifersuchtig2DoYouEvenFoldPre?
What are some of your insights into PLO/Holdem that you only recently understood?

[–]Phil_Galfond[S]
This isn't extremely recent, but in the last few years I've come to think about individual poker decisions as part of a larger and more complex problem.

A flop decision isn't just about your hand, the board, what you think your opponent can have, your equity against that range, and what you think he will do against a bet/raise/whatever. For each flop (in NLHE) there are 47 possible turns (as far as you know), and for each of those turns, 46 possible rivers.

Thinking about how your hand will play out against different parts of their range on each of those board run-outs is more important than what your equity looks like now.

If it sounds like a lot to think about... it is. However, you can usually group turns and rivers into categories and end up just thinking about a few of the most likely and most important (as far as EV swings) scenarios.
[–]sezmic
Got any interesting prop bets going on atm? What kinda games do you play aside from poker?
permalink

[–]Phil_Galfond[S]
I have $7.5k riding on this season of The Voice! Probably not as exciting a prop bet as you were hoping for :)
I used to play a lot of video games, but since I started playing poker, I lost interest. It takes up enough of my time and mental energy, and it's more fun and exciting than other games are to me anyways.
[–]kreeeep
Best live cash game players? How much money are the western guys winning in Macau?
permalink

[–]Phil_Galfond[S]
Tough question to answer. The obvious one is Ivey... Then it depends what games you're talking about. Most of the successful live players specialize in mixed games rather than NL and PLO.
Off the top of my head: Antonius, Oppenheim, Hennigan, Schulman, Seed... to be completely honest though, I'm not a specialist in mixed games, so I'm not very confident in my list. I'm sure I forgot some too, but I'm trying to speed through here.
As far as I know, the stakes over there are equivalent to 2k/4k US sometimes, so it'd be pretty easy to win or lose 5m. I'd expect that there are a handful of $10m+ winners from those games.
Vanessa Selbst (1 jaar geleden)
I am Vanessa Selbst, the highest earning female poker player, and a member of Team Pokerstars Pro. Ask me Anything!

Hey everyone - I'm Vanessa Selbst.
I started playing poker about 9 years ago, just messing around with friends. I then learned about online poker and online poker forums, got serious about the game, and starting building my bankroll in cash games. In 2006, I played my first couple of tournaments and made my first televised final table at the WSOP. I somewhat infamously busted 4-bet shoving 52s and running into AA in a hand that Norman Chad referred to as a "blowup of monumental proportions" or something along those lines.
Though I had some early success, I struggled with the idea of making poker a long-term career as I wasn't convinced it was sustainable as a way of contributing to a healthy and meaningful life, so I went to law school in 2008. While there, I played and won a few tournaments including the NAPT Mohegan Sun for $750,000. That win catalyzed my signing with Pokerstars and my return to a career as a pro, this time as a tourney donkey rather than a cash game pro who dabbled in tournaments. I'm still not convinced poker as a career is fully healthy or meaningful, but I'm doing everything I can to make it that.
I have since graduated from law school and also become the highest earning female poker player of all time, with more than $7 million in career earnings, and a bunch of tournament wins.
I am also, incidentally, a lesbian, and a strong supporter of civil rights (LGBT and otherwise). I am engaged to my wonderful fiancee and will be married in August of this year in New York.
I'll be back in 2 hours - at 2PM Pacific time. What do you wanna know?
Selbst kent de eigenaar van Reddit dus dat ze een keer een AMA zou doen zat er wel in. Een nuchtere kijk op het leven van de inmiddels getrouwde Team PokerStars Pro:
[–]philipquarles
Can you tell us a little bit about what "$7M in career earnings" actually means? How much of yourself did you have? How much have you made or lost staking others? How much have you spent on buyins, travel expenses, and living expenses while accumulating those cashes? How much have you won or lost at side games at tournaments? (I assume you still play cash, even if you're now primarily a tournament player.) I understand if you don't want to go into detail, or if you want to talk more generally, rather than about your specific situation.
permalink

[–]vselbst[S]
As your question implies, these career earning stats are definitely very skewed, and it depends wildly on the player in terms of how much action they had sold, how many buyins they had played, etc etc. Without going into specifics, I will say that I've run decently well with respect to having a substantial amount of myself when I binked big and have not been backed for any of my big scores, though I have swapped and sold pieces in some of them. I play much less than most pros as I value quality of life more than playing all the time... I would say I've probably spent somewhere between $1.5MM and $2MM in my life in buyins. After buyins, travel expenses (which are pretty costly), and taxes, I definitely have nowhere near that $7M stat that I've made from tournaments in my actual possession, but for me those numbers about career earnings are more like a score in a videogame than an actual commentary about anyone's net worth.
[–]The_Great_Destroyer
You seemed shocked with the call by Sylvia that ended the main event. (as a lot of us were) How much was Jesse playing based off the advice you were giving him up to that point? In other words, were you giving him more advice on spots to be more or less aggressive, or was it much deeper than that? Also, do you think fatigue was a factor in the hand, or did Jesse think Greg had a huge edge against him and was willing to take a huge gamble to try to end the tournament? Thanks and good luck!
permalink

[–]vselbst[S]
Great question, actually. Jesse is typically a cash player and a lot of the stuff that he was doing throughout the final table, like 5-betting light based on ICM, limping in certain spots or checking back certain hands that might be autobet in a cash game, was pretty new territory for him. I think he played really really well with relatively few mistakes until the last couple of hours, and I do think fatigue played a decent role in the mistakes he did make. As far as the final hand, I wasn't shocked at the call so much as the overall play - 3betting QJs on those stacks wasn't optimal just given the chance that Greg decides to 4bet shove light. I think Jesse hadn't realized they were only 30-something BBs effective because two hands ago they had been 45ish effective, and he was planning to 3bet to 5b shove. Once he 3bets and gets shoved on, I think it's actually a mandatory call given Greg's probably range (discounting extremely strong hands which he would probably 4bet small).
I didn't really want to be so hands-on at the final table because I wanted him to play his own game and to play it with confidence, but I guess I ended up talking to him quite a few times just because I kept seeing opportunities that I thought Jesse was missing. I just can't imagine how difficult it is under that kind of pressure, 3 handed for so long on poker's biggest stage. Most of the time I was just telling him to start bluffing more, and then he didn't, and then I told him again, and then he didn't, and then I yelled at him to do it... and then he ran a 3 barrel bluff and we were all good again :)
[–]fyrite
how many nights a year do you sleep in a bed that you own?
permalink

[–]vselbst[S]
Well probably around 180, but only because my primary residence is actually Las Vegas so I'm there for the WSOP and all the Bellagio tournaments. If you don't include Las Vegas, then maybe like 70-80?
Tom Dwan (2 jaar geleden)
Dwan is inmiddels werkloos, maar twee jaar geleden was hij nog in full force. Dwan kan niet echt lekker schrijven, is niet zo coherent in zijn antwoorden en beantwoordt niet alle vragen. Maar er zitten wel mooie stukjes tussen:
AMA- tom dwan (self.IAmA)
was busy trying to get people to like this; http://on.fb.me/gPPUPp (to get a poker question upvoted for obama's townhall thingy today), and realized i should prolly have a reddit account since i browse here a bit. Now ima do an ama- but its more like ask me most stuff- b/c some stuff i wont be able to answer.

edit: sucks that site ws down so long, didnt see many comments get voted up in the 2days or so since i last replied, lemme know if im doing it wrong and not noticing b/c im being dumb somehow
[–]thedapperdan
Your big bluff against Ivey on HSP 6 with 98s against A6s:
What value range are you repping with your bet on the river? A set or broadway (AJ) I assume? Do you bet two pair that big there?
What range do you assign Ivey before you fire the river barrel?
Finally, how sick is Ivey that he tanked with 4th pair for so long? Can you tell me why you think he was able to do that? A live tell/soulread thing? Or maybe he thought you were squeezing with garbage there a huge percentage preflop?

[–]tomdwan[S]
i'd vbet aa/ak there some pretty high % of the time, any 2p+ obv. I think ivey was mainly thinking of shoving n not calling, but ya never know
[–]humphrey06
If I could beat 200NLHU on FTP consistently vs regs, what's stopping someone like me from beating 1knl and ultimately, nosebleeds?
Is bankroll one of the biggest factors? And not being afraid to fail? Often times I see so many people that get too "comfortable" at their stakes (think 200nl, 100nl grinders) and fear losing money. They will simply never get used to playing higher and their potential isn't realized. What's the best way to realize one's potential within poker, Tom? I always wonder what my actual ceiling is, in terms of the stakes I play... is there only one way to find out - by playing higher / shot taking?
permalink

[–]tomdwan[S]
obviously having the proper bankroll is important- i'd generally say about 50buyins for 200nl (1$-2$ blinds) if your willing to move down, and 100 by 5000nl (25$-50$ blinds) if your willing to move down, 5/10 is somewhere in between... but if your game selecting and dropping down rapidly if you lose u can loosen those requirements. At 200nl the game should be a lot easier than at 5/10 because your playing less people who play for a living. As you move up you need to try and think about what your opponents are thinking (along with what u have), because its much less obvious what they have (in their range) than at the lower stakes