High Stakes Revealed: Chau "La Key U" Chiang is (g)een dief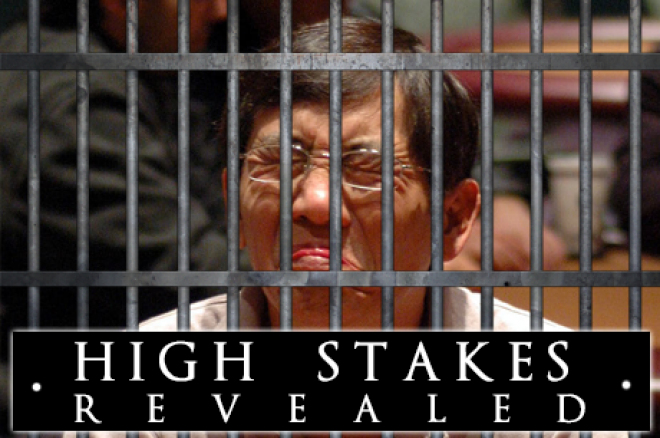 Todd Brunson speelde op twitter dinsdag een spelletje met zijn volgers. Hij begon met een mooie roddel, en zijn volgers mochten raden om wie het ging:
A guy I used to play 4k-8k with every day just got caught on camera stealing $800 from the Jap 5 minutes ago at the Bellagio. He asked dealer what happened. Then told the floor to check the camera.... Busted!!!! The thief tried some lame ass excuse.... " I sorry, I'm thought those mine ships". How the mighty have fallen.... First whojedi now this... Sad

— Todd Brunson (@ToddBrunson)
"@sportsyack: @ToddBrunson Seriously, is this a well known player?" Yes, very we'll known

— Todd Brunson (@ToddBrunson)
: @ToddBrunson Did they bust him or just kick him out of the casino?" Neither. The floor said to the jap just let it go and he said ok

— Todd Brunson (@ToddBrunson)
Al snel maakte Brunson zijn volgers duidelijk dat degene die "gepakt" was ook Aziatisch was, net als "The Jap" waar hij van geprobeerd had te stelen. De eerste gok was direct Men "The Master" Nguyen, maar die bleek dit keer onschuldig. Ook namen als Bill Chen, Minh Ly en Scotty Nguyen kwamen langs.
Brunson vond het allemaal wel interessant die aandacht, en gaf diverse tips:
"@avenhutt: @ToddBrunson Everyone knows it was @BrokeLivingJRB". Noooo. This guy is 1/3 his size. There's hint number one

— Todd Brunson (@ToddBrunson)
Final hint. On the continent my ancestors come from: his name is used for both hello and goodbye

— Todd Brunson (@ToddBrunson)
Al snel was voor iedereen duidelijk dat het om Chau Giang ging. Over Giang schreef ik op PokerNews.nl eerder al een uitgebreid profiel. Daarin kon je toen al lezen hoe gigantisch veel de van oorsprong Vietnamese spelerwon:
Met een miljoen in zijn portemonnee, en een gebrek aan publiek beschikbare informatie over bankrollmanagement waarschijnlijk, besloot hij de hoogst mogelijke limieten te proberen. Jongens als Chip Reese, Doyle Brunson en Lyle Berman hadden een stoeltje vrij te maken in Bobby's Room voor Chau Giang die binnen de kortste keren zich waagde aan $8.000/$16.000 en hoger. Giang begon met een enorme heater en bouwde zijn bankroll van 1 miljoen uit naar 20 miljoen.
In het zelfde stuk schreven we ook al dat Giang nogal een voorliefde voor craps heeft, een gevaarlijke hobby zo blijkt maar weer:
De rush aan adrenaline in de hoogste games ter wereld vond hij niet meer op de lagere stakes. Aangezien de $4.000/$8.000 en $8.000/$16.000 game soms voor weken niet draaide zocht hij naar een andere mogelijkheid dezelfde opwinding te voelen. Helaas voor Giang hoefde hij in het Bellagio niet ver te zoeken. Giang was steeds vaker te vinden aan de craps en baccarat tafels en verloor zijn gehele bankroll aan het casino.
Giang is een van de weinige oude pokerspelers die online echt mee speelde met de beste. Onder de naam "La Key U" won hij bijna $2,7 miljoen op Full Tilt Poker. Giang woont in Las Vegas en heeft zich sinds Black Friday niet meer laten zien op de website.
Update: Giang toch geen dief?
This is what happened. Chau had 3 racks of $20 but one was missing a stack of 400. He asked if somebody took money from him. Darush joking answered that Shun took the money while Shun was in the bathroom at that time and told Chau to take the money back. Then Chau took 2 stacks or $800. When Shun returned to the table realized he was missing 2 stacks and went crazy. The dealer and few players saw everything. So Chau give $400 back but called the camera to see if the money was right. There was not stealing from Chau since many people was watching. It's incredible how easy it's to ruin the reputation of a person with a wrong Twitter.

Bron: gebruiker Karpov op 2+2
Here is what happened according to Darush:

Chau comes back to his table and thinks there is a $400 stack of twenties missing. He believes Shun took it as a joke. He says so. Shun is not at the table. Now he takes $800 from Shun's stack. He does this in front of everyone. The extra $400 was a rejoke. When Shun comes back he asks where is $800 is. Chau admits he took it since he assumed Shun had kiddingly taken the 400. Now Shun reaches over and takes 1200 from Chau! Its still supposedly all in fun and in front of everybody. But now when it comes time to settle up Shun only gives Chau back 400 instead of the 800 Chau thinks he is owed. But Shun now says that he never took the first 400.

From this point forward it is becomes unclear. But the important point is that the original implication that Chau tried to get away with stealing $800 in chips from another player is apparently totally untrue.

Bron: David Sklansky op 2+2
Drie grootste handen van de week
De drie grootste handen van de week komen allemaal uit een ontmoeting tussen Kyle "KPR16" Ray en "Tight-Man1". Op Full Tilt Poker namen de twee het tegen elkaar op aan diverse $200/$400 No-Limit Hold'em Heads Up tafels. Ray was de duidelijke winnaar uiteindelijk over de sessie gezien.
Kyle "KPR16" Ray wint een $134.037 pot ($200/$400 No-Limit Hold'em Heads Up)
Myle "KPR16" Ray opent de button met een minraise naar $800 en callt als "Tight-Man1" driebet naar $2.800. op de flop en "Tight-Man1" checkt. Ray bet $2.240 in $5.600 en krijgt een call. "Tight-Man1" checkt nogmaals als de op de turn valt. Ray bet $15.120 in een $10.080 pot. De valt op de river en "Tight-Man1" checkt voor de derde keer. Ray overshoved allin voor $46.858 en "Tight-Man1" maakt de call.

Ray laat zien voor de nuts, "Tight-Man1" muckt.
"Tight-Man1" wint een $114.125 pot ($200/$400 No-Limit Hold'em Heads Up)
Kyle "KPR16" Ray opent voor $800 en "Tight-Man1" driebet vanaf de grote blind naar $2.800. Ray vierbet naar $6.400, "Tight-Man1" vijfbet naar $13.200 en Ray shoved. "Tight-Man1" callt en de kaarten gaan open.

voor Ray, voor "Tight-Man1". Ze runnen hem twee keer en beide keren blijven de azen van "Tight-Man1" staan:



Kyle "KPR16" Ray wint een $112.799 pot ($200/$400 No-Limit Hold'em Heads Up)
"Tight-Man1" opent voor $1.000 en Ray driebet naar $4.000 vanaf de grote blind. "Tight-Man1" maakt de call en een $8.000 pot ontstaat.

op de flop en Ray bet pot ($8.000). "Tight-Man1" callt en de verschijnt er bij op de turn. Met $24.000 in de pot checkt Ray nu. "Tight-Man1" bet $10.400 en Ray callt. De valt op de river en Ray check-callt allin voor $34.000.

"Tight-Man1" heeft helemaal niets met . Ray heeft dezelfde hand, maar dan met de juiste suit voor een backdoor flush: .
Resultaten 23 januari tot en met 30 januari 2013
| | | (gebruikers)naam | handen | winst/verlies periode | winst/verlies 2014 | winst/verlies alltime |
| --- | --- | --- | --- | --- | --- | --- |
| | | | | | | |
| | | Winnaars | | | | |
| 1 | | Viktor "Isildur1" Blom | 1.007 | +$618.531 | +$1.638.053 | -$35.837 |
| 2 | | Kyle "KPR16" Ray | 2.231 | +$311.561 | - | - |
| 3 | | OtB_RedBaron | 762 | +$116.418 | - | - |
| 4 | | JLlama | 4.773 | +$111.874 | - | - |
| 5 | | Lottenice | 1.892 | +$110.964 | - | - |
| 6 | | Crazy Elior | 6.043 | +$96.291 | +$218.079 | +$205.758 |
| 7 | | Daniel "jungleman12" Cates | 1.570 | +$91.404 | +$290.243 | +$7.696.260 |
| 8 | | Alex "BiatchPeople" Luneau | 2.753 | +$91.068 | - | - |
| 9 | | Ben "Bttech86" Tollerene | 291 | +$88.321 | +$1.450.975 | +$4.931.863 |
| 10 | | Daniel "w00ki3z." Cates | 843 | +$58.109 | -$27.579 | +$560.670 |
| | | | | | | |
| | | Verliezers | | | | |
| 1 | | Alexander "PostflopAction" Kostritsyn | 886 | $290.153 | - | - |
| 2 | | SallyWoo | 688 | $250.225 | - | - |
| 3 | | Tight-Man1 | 1.426 | $203.015 | +$183.368 | +$1.639.233 |
| 4 | | SanIker | 713 | $151.768 | -$316.646 | -$72.661 |
| 5 | | Cort "thecortster" Kibler-Melby | 2.972 | $130.654 | - | - |
| 6 | | wilhasha | 1.073 | $114.989 | - | - |
| 7 | | Ilkka "LokoIsBack" Koskinen | 776 | $85.024 | - | - |
| 8 | | Sebastian "taktloss47" Ruthenberger | 445 | $84.945 | - | - |
| 9 | | Odd_Oddsen | 136 | $79.725 | +$17.954 | +$2.732.509 |
| 10 | | Noah "Exclusive" Boeken | 2.579 | $62.894 | -$149.995 | +$62.290 |