Tweet Tweet Bad Beat - Gruissem's geheim en een nieuwe video van SrslySirius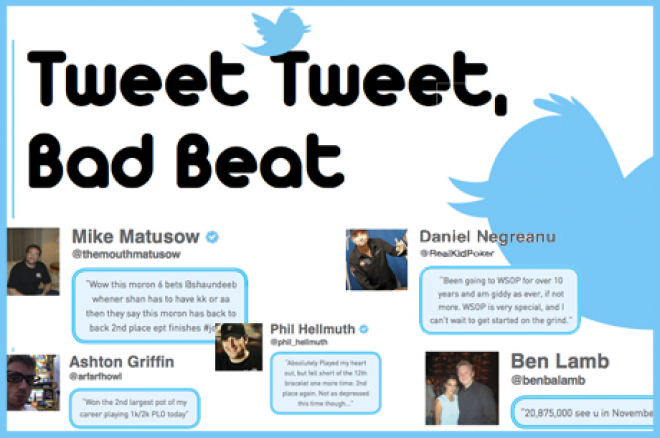 Een nieuwe video van Thomas "SrslySirius" Keeling
Het was alweer een tijdje geleden dat we iets hadden gehoord van Thomas "SrslySirius" Keeling. Althans, het was een tijdje geleden dat hij een muziekvideo maakte, want hij was wel gewoon druk in de weer met video's. Nadat QuadJacks hem (een oor aan)naaide kon hij aan de slag bij BLUFF Magazine waar hij wel gewoon een salaris kreeg. Keeling maakte tijdens de afgelopen WSOP diverse video's voor het pokermedium en is inmiddels ook op de PCA om daar zijn kunsten te vertonen.
Maar voor Dan "Jungleman" Cates kwam hij uit zijn muziekvideo pensioen. Hij klom in de pen en nam plaats achter de microfoon om op de melodie van Eminem en Dido's nummer Stan een nieuw liedje op te nemen:
De kritieken waren unaniem: een nieuwe klassieker!
Gruissem's geheim
Philipp "Philbort" Gruissem doet het nogal goed de laatste tijd. Hij wint High Roller na High Roller en leeft er op los. Op twitter deed hij zijn geheim uit de doeken:
Here is my secret for winning in poker:

A couple of months ago I decided to give min 10% of my yearly income to charity for the rest of my life.

That fact made me get back the motivation I was losing over the years of playing poker.
It refreshed my passion for this great game.

I realised that the biggest positive impact I can currently have on the world is to keep on playing poker and donating a part of the winnings to the most effective charitable causes.
(if you're unsure of what I'm saying, check out this link, esp video 2 from min.38 onwards http://effectivealtruism.ch/ )

So after that realisation, I worked hard on my game, was more focused and somewhow started to hit almost every hand...

I came to this conclusion with my good friend Igor Kurganov who had the same positive experience and results.

I hope it goes on like that...

Good luck to all of you seeking happiness

--------------------

You give, We give

Igor and I will double everybody's donation up to a combined total of $50k.

After research and many discussions we came to the conclusion that the Schistosomiasis Control Initiative (SCI) is the most effective charity right now,
and in the longterm it is an organization using Effective Altruism, like EACH.
Links for both charities:
http://www.givewell.org/international/top-charities/schistosomiasis-control-initiative (also top rated on givingwhatwecan.org) (http://effectivealtruism.ch/)

Therefore we will split all donations 50/50 between these two organizations.

Please send your donations before 18th jan 2014.
You can transfer to either my pokerstars account "Philbort" (London) or shoot me a PM for bank details.
The minimum donation is 500usd. You can always pool this between you and your friends.

We can provide receipts as necessary to allow for your tax deduction.

Many thanks for supporting this. I really think there is no more efficient donation possible at this moment. — with Igor Kurgandu.
First World Problems: vertraging
Ooit zat ik in een vliegtuig naar Londen om daar over te gaan stappen en direct naar Las Vegas te vliegen. Alle passagiers zaten, de cabinedeur was dicht... maar we vertrokken maar niet. Uiteindelijk bleek de deur van de cockpit niet goed te sluiten waardoor er een monteur van de andere kant van Schiphol moest komen om het te fixen. Uiteindelijk stegen we dan toch op maar onze vlucht, die normaal gesproken een uurtje maar zou moeten duren, deed er twee uur over door tegenwind (!). Daardoor mistte ik mijn vlucht op een paar minuten en moest ik een nacht in een vliegveld hotel verblijven om pas de volgende dag naar Vegas te kunnen vliegen.
Verder run ik al jaren enorm goed dus klagen mag ik eigenlijk niet. Op twitter werd er genoeg geklaagd de afgelopen dagen maar dat was ook niet zo verwonderlijk. Het weer is nogal onstuimig en overal vallen vluchten uit of zijn er enorme vertragingen. Heel veel spelers hebben moeite om de PCA te bereiken daardoor. Gaat PokerStars zijn 10 miljoen guaranteed wel halen?
Gelukkig is de late registration iets aangepast:
Foto's
Lex heeft het in ieder geval uiteindelijk wel gehaald. Dezelfde foto kwam overal langs, maar inmiddels is het weer wat minder:
Goede voornemen
Jack Effel is de toernooidirecteur tijdens de World Series of Poker de afgelopen jaren. Effel is een echte Amerikaan, en zo zag hij er ook altijd uit. Hij werd steeds ronder en ronder en zijn pakken steeds groter. Deze zomer was hij echter plots een stuk magerder. Vele mensen roddelden dat hij een maagband genomen zou hebben, maar naar eigen zeggen is het sporten en gezonder eten. Nu we net aan 2014 begonnen zijn heeft hij een nieuwe doelstelling: 5% lichaamsvet. Dit is de before foto, als hij een after foto publiceert dan lees je dat ook weer in deze rubriek natuurlijk:
Bilzerian speelt verder
En dan is er nog eventjes aandacht voor Tweet Tweet favoriet Dan Bilzerian. Hij is nog steeds aan het spelen voor miljoenen, dat jullie het maar niet mogen vergeten: