Tweet Tweet Bad Beat - PokerStars rake veranderingen zet kwaad bloed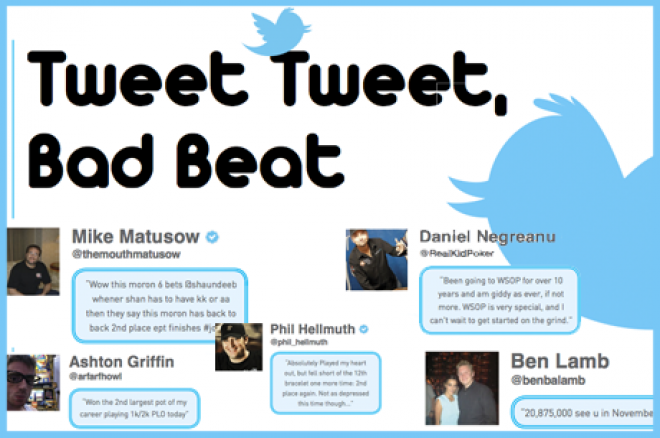 Op 30 oktober maakte 'PokerStars Steve' een post in het 'Internet Poker' gedeelte van het 2+2 forum. De volgende dag las je over de veranderingen in PokerNews Boulevard, en vandaag las je in dezelfde rubriek reacties van enkele spelers.
Oct 30 2014 "Red Thursday" - the day winning online poker players ceased to exist #inthered #nhAmaya

— steveodwyer (@steveodwyer)
Steve O'Dwyer (die onlangs nog even $1,8 miljoen won in een high rollertje in Macau) overdreef dan misschien een beetje in bovenstaande tweet, het is wel degelijk een ingrijpende verandering voor veel spelers.
Daniel Negreanu, toch een beetje de stem voor veel pokerspelers de laatste jaren, schreef een blog over de veranderingen:
The other area that has helped PokerStars remain #1 for as long as it has, has been the company's ability to attract NEW players. As I wrote in a previous blog, http://www.fullconta...=&ucat= bringing new recreational players to the game, poker games simply die. It's imperative that we attract new players and I do believe the company's strategy will do that. If that strategy works, that could mean more profit for online grinders in the long run. Of course, that remains to be seen over the next couple years, but I'm confident in the company's vision and I am fully aligned with the direction they are going. I have met with the new owners and I think they have some really exciting and innovative ideas to attract more casual players to the game.
In de blog, waar je hier boven een stukje uit leest, sluit de door PokerStars gesponsorde speler zich aan bij de reactie van PokerStars zelf. 's Werelds grootste website reageerde in het topic op 2+2, en mailde onderstaande antwoord aan mensen die via een mail aan [email protected] hun ongenoegen kenbaar maakten:
Hello [NAME],

Thank you for clarifying the situation and taking the time to share your concerns with us.

In recent weeks, PokerStars has made several changes which have upset some players. We have heard these complaints and are genuinely listening to the feedback. No one likes higher costs and we appreciate that point of view.

In recent years, we have also heard many high-volume, professional poker players say that the games are tougher now and it's harder to win than in the past. This is one of the reasons we have actually reduced rake, which helps the ROI of these players. But that's not making the games any softer, which is what would really improve ROI.

Instead, we need to invest in new ways to improve the poker economy.

Over recent years, we have been developing ways to grow that we believe will attract new players and reactivate players already in our database. Such initiatives include new poker variants, expansion into other gaming verticals, and new marketing approaches. While we understand that not all players are satisfied with the short-term impact of these changes, the reality is they have the potential to increase poker liquidity.

However, initiatives to attract players require significant investments in areas of marketing, promotions and product innovation.
Additionally, in order to not only secure our continued place as an industry leader across the globe but also to grow ourselves and the game globally, we continue to lobby for the regulation of online poker and attempt to obtain licenses in many newly regulated, locally licensed jurisdictions. We support regulation because we believe it ensures game integrity, player protection, and increases the recognized legitimacy for the game itself. However, there are obviously significant upfront costs to these efforts as well as ongoing costs in the form of gaming license fees and duties.

The funding has to come from many places and it is perfectly reasonable that some of it comes from reducing certain costs, which was the rationale for some of the changes to our VIP program, stemming from a review we began early this year, as well as charging a margin on currency exchange fees. It is also the rationale for our changes to the rake.

If we can grow poker, everyone will benefit. Even our competitors will benefit, because in a rising tide, all ships rise.
Finally, it has to be said that our rake, our currency exchange rates and our VIP program are all more competitive than those of our major competitors.

Let us know if there is anything else that we can help you with.
In het kort komt het erop neer dat PokerStars aangeeft dat ze de rake verhogen om meer geld voor promoties en acties te hebben, die er in moeten resulteren dat er meer (nieuwe) spelers komen spelen op de site.
Niet iedereen geloofde daar in:
I think we can all agree that Pokerstars has to raise the rake. They only made 420m in ebitda on 1.1bn in revenue last year. #ohwait

— Haralabos Voulgaris (@haralabob)
'ebitda' staat daarbij voor 'earnings before interest, taxes, depreciation, and amortization' trouwens. Ook multimiljonair en extreme high roller Talal Shakerchi uitte zijn ongenoegen. Op 2+2 schreef hij onder andere het volgende:
(1) Will you be sending proper notice of this to all players or will PS be taking the sneaky 2+2 only approach like you did on introduction of FX charges (so most players never hear about it)?

(2) What is the underling philosophy now? Does management consider that its not enough for the company to make $420m profit (EBITDA) on its $1100m revenues and so you have to squeeze even more out of the players?

(3) Has anything that's happened recently caused you to pause and consider your position at Stars?
blackitem
how sad that you forgot to raise reg mtt fees. please pokerstars, fix it.

JK I know, but they have increased MTT fees overall pretty badly, but mostly in more back-door ways: increased proportion of turbos (with rake same as regular tourneys), weighted guarantees towards the turbos etc, introduced faster formats like spin & go (which is dice-rolling, not poker), switched from rebuys (zero rake on rebuys) to re-entries (full rake), doubled rake on hypers, ... [watch this space]
What can be done?
Well there's no magic answer - they're doing these things because they can - its basically monopoly abuse. But there are a few things to think about which all help a bit:

Play less on PS and more elsewhere - that will help other sites step up to create a more competitive business (= good for players).
When people ask you where to play, recommend a different site.
If you're a player in the media then say what you think about this when you're interviewed.

For those who are really pissed and have the time/energy, contact the anti-trust authority in your country. (The body whose job it is to protect consumers from monopoly abuse). Tell them one company has become dominant in the industry and, having reduced the completion to an ineffective level + bought and run down the number 2 player, and despite making exceptional margins (38% EBITDA margins) on the business already, is squeezing its customers (you) even harder. They have the power to make PS adopt fair practices and/or split itself (eg sell Tilt to a real competitor). Even if they don't take short term action Ican guarantee that if they start sniffing around PS/Amaya will be very careful about doing anything else.

Your authority is listed here: http://en.wikipedia.org/wiki/Competition_regulator

If you're a member of the PPA, tell them you want them to adopt a policy of lobbying for US deregulation without allowing Stars back in for period (eg 10 years) as that is now in the interests of the players. (Sadly I already know what PPAs answer will be but it won't hurt to make the point).
Support actions like mass sit-outs. Don't just expect everyone else to do it or take a short-term view.
When PS next send you one of those surveys, say what you think.
If the other sites make some serious efforts to build their biz then support them.
EPT winnaar Rupert Elder nuanceerde de einde-van-de-wereld-kreten, en gaf aan dat het nog niet helemaal over is. Zijn tweet zorgde voor een interessante discussie tussen diverse spelers en reporter Remko Rinkema:
@ruperte @SquidPoker @RemkoMedia now the small winners become the new break even players, losers lose more, winners win less

— Jeff Rossiter (@JeffRossiter)
@RemkoMedia @ruperte Each year the number of players who win at poker declines. Increased rake just means they'll be fewer and winning less

— Sam Grafton (@SquidPoker)
@SquidPoker @RemkoMedia If you were winning at your game on 888/Party/iPoker, you're going to win at a similar rate on Stars (maybe a bit <) If you weren't and relied on RB, either step up your game, quit, or lose

— Rupert Elder (@ruperte)
@RemkoMedia @ruperte old stars seemed to put the customers first. New stars puts profits first. In the short term this will lead to more profit, but in the long term it could turn players off and create opportunities for competition. Stars now has a monopoly, I'd say it's too early to say they are jeopardizing it, but if they are this is how it starts

— Ryan Fee (@fees88)
@ruperte @fees88 @RemkoMedia long term it will discourage regs away but as much as regs like to say they matter for the site, they don't rly

— [Removed:17] (@missoraclepoker)
Ben "sauce123" Sulsky, een van de beste cashgame spelers ter wereld, rekende even voor hoeveel impact het op hem persoonlijk zou hebben:
sauce123
-Link to Stars Steve's table of cash game increases: http://i.imgur.com/zZi6n61.jpg

-50/100+ stays the same, 10/20 hu is doubled, 10/20 6max stays the same

-25/50 rake is increased hugely:
HU: +400%
3-4: +33%
5+:+67%

-To figure out how this effects you, go to PT4/My Reports/New Report/Player Report/Player Per Hand, then filter for the relevant site and stakes in the filters tab, for example http://gyazo.com/85916884e0d5177c6357b91ef5fa87a1

-My example: I didn't play 10/20 hu this year (and 50/100+ is unchanged), so I filtered for only my Stars/FTP hands and then looked at 'My rake contributed' by number of players, then (since all pots at high stakes are capped rake) I can just multiply my rake contributed by the factor of the proposed changes (e.g., my hu rake x4). Example of PT4: http://gyazo.com/6743b98c5c146a0734b2cce69b866d29

-Results are that I'll pay around 13.5k more hu, around 7345 more 3-4h, and around 13270 more 5+ handed, for around 34115 more total.

-If you're a hu reg or a high volume 25/50 reg this will effect you much more.

-These numbers are lowballed by a significant amount, since only around 4/5th of my yearly volume is in this database, and there's still 1/6th of the year left. So, an adjusted number would be around $46,600 more in rake per year. I think most people can also expect a higher proportion of 25/50 and a higher volume on Amaya in 2015 due to game conditions.

-My total expected rake was around 100k a year so this is around a 45% increase.

-If you're a 25/50+ reg you can probably expect around +50% rake on average."
Mijn mening
Ik las de berichten op mijn vakantie, en kreeg er een uiterst vervelend gevoel bij, vergelijkbaar met die tijdens Black Friday. Het feit dat ik zelf niet meer online speel, doet niets af aan het feit dat dit een heel vervelende gang van zaken is voor regelmatige spelers.
Doordat ik zelf niet speel, laat ik de berekeningen aan de mensen die er verstand van hebben. Wat precies de uitwerking is van de wijzigingen zal voor iedereen anders zijn lijkt me. Iedereen levert wat in, de een (Sit & Go spelers) wat meer dan de ander (MTT spelers) als ik het zo zie. Het feit dat PokerStars nog steeds goedkoper is dan de andere sites, doet niets af aan het feit dat het enorm vervelend is voor veel spelers, en daarmee voor de pokereconomie in het algemeen. Er komt simpelweg meer geld bij PokerStars, en er blijft minder circuleren.
Daarmee komen we bij het belangrijkste punt wat mij betreft. PokerStars geeft aan dat ze de rake moeten verhogen om meer te investeren in het aantrekken van nieuwe spelers. Hier geloof ik simpelweg niets van. Dat PokerStars een bedrijf met winstoogmerk is en geen charitatieve instelling hoef je mij niet te vertellen, maar de aangedragen argumenten lijken meer smoesjes dan de daadwerkelijke redenen om de rake te verhogen.
Ook het argument dat gereguleerde markten er voor zorgen dat de rake omhoog moet, lijken uit de lucht gegrepen. In deze markten zijn de bonussen voor spelers al lager, wat genoeg zou moeten zijn om de hogere kosten te compenseren. En als dit niet genoeg is, misschien is online poker volgens de door de betreffende overheid opgestelde regels, dan niet levensvatbaar. Dan kan PokerStars beter een signaal afgeven aan die overheid door zich terug te trekken uit die markt, dan andere spelers daarvoor laten opdraaien door het wereldwijd verhogen van de rake.
Vooral de manier van communiceren laat te wensen over. Niet alleen klinkt allemaal heel 'corporate' van PokerStars, terwijl ze voorheen zo goed waren in het onderhouden van warme contacten met de community, het klinkt gewoon niet geloofwaardig. Zeggen dat moederbedrijf Amaya meer geld wil zien na het lenen van al dat geld om Rational over te nemen, had ook kwaad bloed gezet natuurlijk, maar het was in ieder geval eerlijk geweest.
Negreanu (met zijn blog) en Stapes (die dit artikel deelde op zijn Facebook, en daarmee de volle lading kreeg van boze spelers) maakten de fout hun werkgever te verdedigen tegen een angry mob, zonder van de hoed en de rand te weten. Negreanu liet al eerder zien dat hij out of touch is met de online pokerspelers toen hij beweerde binnen een paar weken $25/$50 te kunnen verslaan, en ook hier praat hij een kul-argument na waar zelfs ik doorheen kan prikken.
Zoals gezegd, ik heb te weinig kennis van zaken om te kunnen oordelen wat de gevolgen zijn van deze wijzigingen op korte en lange termijn. Of het poker echt de nek om draait, of dat de winnende spelers nog steeds een ruime boterham kunnen verdienen doordat er meer beginnende spelers komen en minder break-even regulars, kan ik niet beoordelen. Maar de hele gang van zaken sinds de overname van Amaya bevalt me niet. En dat terwijl er wordt aangegeven dat ze meer geld aan promotie en adverteren gaan uitgeven om nieuwe spelers te trekken, wat weer goed voor mijn baan zou moeten zijn natuurlijk.
Het enige lichtpuntje is dat er enkele vermakelijke plaatjes gepost werden in het 2+2 topic.