High Stakes Revealed - Brian Hastings geeft multi-accounting onder "NoelHayes" toe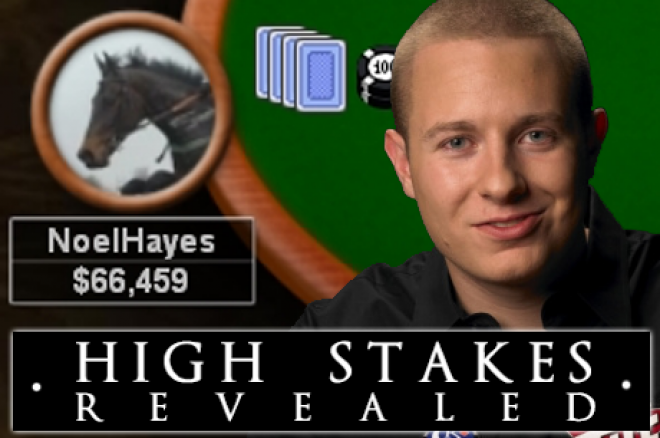 Deze week is er controverse ontstaan rondom vermeend multi-accounten door Brian Hastings op Full Tilt Poker en PokerStars. Toen ik de discussie volgde en alle threads las, merkte ik dat ik zelf zeer bevooroordeeld was in de situatie doordat er achter in mijn hoofd het cheatingschandaal met Hastings tegen "Isildur1" speelde. Om de huidige situatie iets eerlijker te kunnen beoordelen, heb ik besloten het schandaal uit 2009 nog eens goed uit te zoeken. Eerst dan ook een samenvatting wat er toen gebeurde, daarna de huidige situatie zo duidelijk mogelijk in beeld gebracht.
Controverse Hastings die $4,2 miljoen wint van "Isildur1"
Het is oktober 2009 als het account "Isildur1" voor het eerst online verschijnt op Full Tilt Poker. Aanvankelijk weet niemand wie er schuil gaat achter het account, maar al snel is duidelijk dat dit niet zomaar de eerste de beste speler is. "Isildur1" neemt het tegen alles en iedereen op, en kent swings als geen ander. Hij zakt een miljoen in de min, maar wint even later miljoenen van onder andere Tom Dwan, Patrik Antonius en Phil Ivey. Het account gaat niemand uit de weg en speelt de hoogste stakes, tot $500/$1.000. De grootste pot ($1,3 miljoen) verliest hij eind november 2009 aan Patrik Antonius, maar twee dagen later wint hij de op een na grootste pot ooit ($1,1 miljoen).
De swings waren gigantisch, de pots groter dan ooit tevoren, en duizenden railbirds logden iedere dag in om de actie te volgen. Iets als twitch bestond toen nog niet, maar de handen werden live bekeken in de client, en op alle pokerfora ter wereld was het hét gesprek van de dag.
De nog altijd anoniem opererende "Isildur1" ontweek niemand, en had het onder andere al tegen Brian Townsend en Cole South opgenomen op Full Tilt Poker. Townsend en South waren op dat moment zogenaamde Full Tilt Poker Red Pro's, door Full Tilt Poker gesponsorde spelers omdat ze onderdeel waren van Team Cardrunners, een trainingsite die net was overgenomen door Tiltware, het bedrijf achter Full Tilt Poker.
Op 9 december 2009 neemt Brian Hastings plaats aan een tafel om heads-up te spelen tegen "Isildur1". Hastings is op dat moment ook een Red Pro, ook hij is namelijk lid van Team Cardrunners, een site waar hij zichzelf heeft ingekocht enige tijd daarvoor.
In een inmiddels legendarische sessie wint Hastings 4,2 miljoen dollar van "Isildur1". Hastings schrijft een dag later, op 10 december, een blog op Cardrunners.com genaamd "Reflecting on a Very Special Day";
"Wow. I just had the biggest winning day in online poker history. Did this really happen? I'm still having a tough time believing it did [...] When everyone starts playing poker, the dream is that one day they will hit it big and make obscene amounts of money that one couldn't fathom working a 9-5 (well most 9-5s). But for most, this is just a pipe dream. For it to happen, one needs a combination of very large amounts of both skill and luck [...]. And here I am, winning a record $4.18 million in one day (well not exactly - no I didn't have 100% of my own action, and no I am not going into any further detail about this) playing online poker."
In de blog besprak hij hoe hij gekomen waar hij was; hoe zijn tocht door de stakes verlopen was. Daarnaast schreef hij hoe voorbereiding belangrijk was, en hoe tiltcontrole Blom de das had omgedaan. Hij schreef zelfs dat hij het ietwat zuur vond voor "Isildur1" dat hij zoveel had verloren.
Although we are adults gambling with our money and know the risks, I do feel bad for Isildur to a point. Last year I had a 1.4m downswing at 500/1k taking 100% of my action (unbelievably stupid), so I've been there. He's a talented player and I hope he rebounds and I think he will. Maybe this blog entry will even help him.
Daarna bedankte hij mensen die hem hadden geholpen. Allereerst bedankte hij Cardrunners oprichter Taylor Caby die hem geïnspireerd had en van advies had voorzien, en hij bedankte zelfs zijn basketbalcoach die hem uit het team had gegooid waardoor hij meer tijd had voor poker. Uiteraard bedankte hij ook zijn familie en vrienden, zijn blog had zo een Oscar-speech kunnen zijn.
Twee personen die hij ook bedankte in de blog waren Brian Townsend en Cole South, maar die kwamen later nog eens uitgebreid aan bod. Op 14 december 2009 publiceerde ESPN een interview met Brian Hastings, en ook Brian Townsend kwam in het artikel aan het woord. Het interview, geschreven door Gary Wise, staat nog altijd online. Het was dit artikel dat een hele hoop ellende met zich mee zou brengen. In het artikel schreef auteur Wise, na gesproken te hebben met Hastings, South en Caby, onder andere het volgende:
Hastings had played Isildur1 three times previously, so he, Townsend and Cole South conglomerated their hand histories, allowing them to study the mystery man's playing style.
Vervolgens kwam Hastings zelf aan het woord:
"We've done quite a bit of studying of his habits," Hastings reflected. "Honestly, I give most of the credit to Brian Townsend here. I mean, Brian is honestly the hardest worker I know in poker. He analyzed a database of heads-up hands that Isildur1 had played and constructed ranges of what Isildur1 was doing in certain spots. In a way, I feel bad that it wasn't Brian who got this win instead of me. Obviously I'm happy and I'll take it, but Brian did a ton of work. The three of us discussed a ton of hands and the reports that Brian made, so I'm very thankful to him and to Cole as well."
Hoewel Townsend net voor Hastings sessie $700.000 verloren had aan "Isildur1", bleek hij alsnog blij met de uitkomst:
Don't cry for Townsend. While he admits he'd have liked this kind of payday, he insists he's happy with the overall outcome.

"If [Patrik] Antonius or [Phil] Ivey had blown up Isildur1's bankroll, I'd have been upset," Townsend admitted. "Brian's one of our guys, though."

Also, Townsend can find solace in the fact he's taken some $1.7 million from Isildur1 himself.
Het interview op ESPN.com zorgde voor grote controverse. Veel railbirds vonden dat Brian Hastings oneerlijk had gehandeld door zo uitgebreid te overleggen met Townsend en South, en het samenvoegen van de database van handen was al helemaal ongeoorloofd.
De discussie liep hoog op, en er verschenen diverse threads op pokerforum 2+2 over de zaak. De discussie concentreerde zich uiteindelijk in een thread genaamd ''Could isildur1 get his money back because of Hastings + co 'cheating' van gebruiker 'HogMajor'. In de openingspost werden de regels van Full Tilt Poker nog eens aangehaald waaruit duidelijk bleek dat het delen van handen niet was toegestaan.
Ook "Isildur1" kreeg lucht van het verhaal. Veel mensen hadden al het vermoeden dat het Viktor Blom was die schuil ging achter de naam, maar op dat moment was "Isildur1" nog een anoniem account. Matthew Parvis van PokerNews.com wist "Isildur1" te spreken te krijgen. "Isildur1" deed zijn beklag anoniem over de situatie in een inmiddels bekend interview. Daarin zei "Isildur1" onder andere het volgende:
In the days leading up to the session with Hastings, I played with Brian Townsend and Cole South a lot. They were always waiting for me. The last session where Hastings won all the money, it just felt like something was wrong. Everything that could go wrong for me did. Every time I tried to pull off a bluff of some kind, it felt as if it was being picked off. At the time, I just thought it was crazy luck, but now, knowing they shared a lot of their analysis of hand histories with each other, it makes a lot more sense. I feel like Hastings, and even South and Townsend when we played the last few times, had an advantage over me.
Hij gaf aan een formele klacht in te dienen, en vond dat hij recht had op een deel van zijn geld terug.
Yes, I do feel like I deserve to get something back. I feel that Hastings had a big edge over me due to the hand history database. They were able to dissect the exact way I was playing because they analyzed the hands so precisely, and it was impossible for me to adjust, as I had no idea they were doing it.
Blom gaf aan dat hij een tijdje niet meer zou spelen op de site, al duurde die tijd in de praktijk maar heel kort.
Aanvankelijk bleef het stil uit de hoek van Townsend, South en Hastings. Full Tilt Poker rondde haar onderzoek af, en concludeerde dat alleen Brian Townsend de regels had overtreden. Van een gecombineerde database aan handen zou namelijk geen sprake zijn. Brian Townsend schreef een blog waar hij het boetekleed aantrok. De blog is inmiddels verwijderd, maar op het PokerNews forum vonden we nog een copy-paste van de blogentry:
Allegations

I wanted to clear up some allegations about Brian Hastings, Cole South and myself. First Brian H. Cole S and myself never colluded. Collusion is nearly impossible HU but there was always one person playing and never any ghosting occurring. In fact the only person to break the T&C of FullTilt Poker was myself. I had about 20k hands of play on Isildur and I acquired another 30k hands. This is against the T&C of FullTilt Poker and because of this violation I am going to have my red pro status suspended for one month.

Of the three I was the sole one to break the T&C of FullTilt. The three of us never shared hands where mucked hands were shown besides a few hands I posted on weaktight.org, and in fact all the information I received could be taken from watching the game. This is not saying what I did wasn't wrong as FullTilt is very clear in its T&C, rather to clear up they type of wrong doing I partook in.

As for the accusations of team play Cole Hastings and I live about 3000 miles from each other. I have never played on Brian H's or Cole S's account. As for "conglomerating hand histories," it's simply not an accurate statement. I analyzed the database I put together, and the three of us chatted about my analysis, and optimal strategy against Isildur. According to Full Tilt's T&C this is a permissible discussion as it's super common for players at all stakes to discuss strategy and certain players tendencies. Any discussion we had occured away from the table when we were not playing a session.
Ondanks de blog van Townsend bleven veel mensen nog steeds sceptisch. Het verhaal dat alleen Townsend iets tegen de regels had gedaan klonk gewoon te mooi om waar te zijn na de eerdere uitspraken. Daarnaast was Townsend's reputatie al niet helemaal ongeschonden aangezien hij een jaar ervoor op zijn blog (die nog wel online staat) toegegeven dat hij onder een ander account had gespeeld, waarvoor hij toen ook al 6 maanden schorsing had gekregen van zijn Red Pro status:
For the past 6 months I have been playing under the 2nd aliases Stellarnebula on FTP and makersmark66 on PokerStars. I have not used the aba20 account on Stars since I began playing on the Makersmark66 account. I have since gone back to using the aba20 account and will play only that account. During this time I played the 25/50 and 100/200 PLO games. I played under the Stellarnebula account from February until the end of June at which time Lee Jones and I had a discussion and we came to an agreement that I needed to close it. During this time I was playing under the Brian Townsend account, never at the same table with the Stellarnebula. Under the Stellarnebula account I played 25/50, 50/100, and 100/200 PLO. During this time I played a very small amount of 50/100 PLO and primarily 200/400 PLO under the Brian Townsend account.
Ook Cole South reageerde nadat Full Tilt Poker de straf van 1 maand voor Townsend had bekend gemaakt. In post 1.308 van het topic 'Could isildur1 get his money back because of Hastings + co 'cheating' gaf South de volgende verklaring:
Hi everyone,

I'd like to try to help clear up some issues on my side. There has been a lot of intelligent debate that I would be happy to answer.

1.) Full Tilt very understandably did not want us to comment during an ongoing investigation, and they have found that I did not breach the site's rules in any way.

2.) A shared hand history database seems to be the main issue of contention. I have discussed many difficult hands from play against Isildur with Brian Hastings and Brian Townsend, posted on pokerhand.org where we can give each other feedback. I have never sent or received raw hand history data to Brian Townsend or Brian Hastings (or anyone else for that matter) — reports of a "conglomerated" database of all of our hand histories from play with him are absolutely false. My hand histories showing Isildur's mucked cards are in only my possession, and I don't have any hand histories from Brian Hastings or Brian Townsend's matches, such a database is not possible.

3.) Team play is another point that has been brought up. I have never played on Brian Townsend or Brian Hastings accounts, used a program to see their screen or let them see mine, nor have I been in their presence while any of us played online poker since a Cardrunners meeting about a year ago. Never have I asked for or been asked for strategy advice during a hand. I'd like to reiterate, the one-player-to-a-hand rule was never broken here.

4.) I'm not going to get into finances, but I have never played a single hand at a table with a player who I have had a piece of. That's the only issue I could think of that would be relevant with regard to action sharing.

Cole
South reageerde daarna nog diverse keren inhoudelijk in het topic, onder andere in post 1.416 en 1.417. De discussie was toen echter al 5 dagen vol aan de gang, en de meeste criticasters hadden hun mening al meer dan gevormd. De aandacht was weg, en wat mensen in hun achterhoofd zouden houden was dat Blom gecheat was door Townsend, South en Hastings. Afgelopen mei was Cole South te gast bij de Poker Life Podcast van Joey Ingram en bespraken ze het voorval nog eens. Vanaf 48:49 in de volgende video vertelt South zijn kant van het verhaal nog eens. De discussie over het voorval duurt tot en met 55:20:
Een uitgeschreven versie van een deel van het stuk:
Stinger gave an interview with ESPN – Gary Wise, I think was the reporter – and said something to the effect, or at least Gary thought, that we merged our hand histories into one database and then used that to come up with some strategy against Isildur. Which absolutely did not happen. I've got my hand histories, I've never sent them to Stinger or Brian Townsend, and I never received any of theirs. Stone cold, zero of that.

What did happen was Brian Townsend bought some hand histories from PTR. These are, as they say, "public hand histories" they didn't have like the mucked hole cards. They weren't my hand histories from my matches against Isildur. And Brian had hand histories he bought from PTR. He then just like had some overall tips for playing against Isildur. It was not anything remotely, I hesitate to say "useful", it was like this guy's like aggressive in this spot, it was just like talking to your friends about poker. He sent like an e-mail with maybe like three points on like things he would do when he's playing against Isildur. And I like talk about my opponents' strategies pretty frequently with people I'm playing. This was extremely tame, nothing remotely I would consider out of line.
Controverse Hastings die multi-account als "NoelHayes"
NoelHayes really crushed it this SCOOP, I wonder if he will show up for the WSOP???

— David Baker (@DMBakes)
Op 28 mei stuurde David "Bakes" Baker bovenstaande tweet de wereld in. Op 21 juni volgde het hele verhaal in een serie aan tweets die we hier onder hebben samengevoegd:
So after I FT'd the SCOOP 2k a bunch of well known pros messaged me telling me @brianchastings was behind the NoelHayes account on Stars. He was trying to 'do the right thing' and tell people about it including a PokerStars team member but I didn't get that benefit. So to see this 'angleshot' get publicity when I was playing SCOOP-H and 100/200 8game hands vs a new acct that knew me, well

— David Baker (@DMBakes)
Baker wond er geen doekjes om, hij beschuldigde Brian Hastings van multi-accounten. Na de tweets werd het "Hastings Wins $10k Stud and $1.5k Ten-Game Mix Bracelets" topic op 2+2 overgenomen door de discussie over het vermeende multi-accounten. Die discussie werd gister door de moderators naar een apart topic verhuisd met de titel "Brian Hastings accused of Multi-Accounting as "NoelHayes". In het topic reageerde David Baker zelf ook nog eens:
I'd be surprised if he denied it at this point. The story as relayed to me is that he's been on the account for some time, and has been telling his friendly opponents his identity

It's just common knowledge at this point, I think playing with reads on a player that has been around for 10 years on the same name as another well-known player on a readless screenname is top scummy

I'm not super wronged from a financial perspective, in fact I think people who bracelet bet thinking he had a certain amount of XP in the weeks leading up to the series probably have a bigger beef than me
Hastings speelde altijd op PokerStars onder de nickname "$tinger 88", maar zou dus nu actief zijn onder de screenname "NoelHayes". Het "NoelHayes" account werd voor het eerst ontdekt door HighStakesDB.com op 14 oktober 2014. Direct begon het account hoog te spelen, en speelde in de zwaarste line-ups. Ook op het Ierse pokerforum "Irish Poker Boards" kwam er een discussie over het account.
Het "NoelHayes" account stond geregistreerd als uit Ierland, en iedereen die op Google zocht kwam uit bij een Ierse pokerspeler die op TheHendonmob $52.000 aan winnings heeft. De Ierse pokerspeler was daarnaast actief in de Ierse paardenrennen- en gokwereld. Het account op PokerStars had ook nog eens een paard als avatar.
In post 163 van het thread merkte de gebruiker "Demonic16" op dat het account tijdens de SCOOP in de chat nog over Ierland had gesproken:
Played a bunch with NoelHayes over scoop and in cash games. I'd be very surprised to find out it was Hastings. He showed some sort of knowledge about Ireland and the local poker scene there when asked by a random at my table. I have heard the account has been sold, and is not owned by the account maker anymore. At first I thought this was NoelHayes himself, who also has the BCB nickname. Also into Horse Racing, similar to the avatar. Its annoying a fairly obvious multiaccount can just pop up from nowhere, but everyone kinda knows anyway. Super surprised to see Brian mentioned in regard to the account.
De PokerStars Team Pro die er volgens David Baker van zou weten, moet Jason Mercier geweest zijn. De Team Pro speelde namelijk veel in dezelfde line-up, en zou volgens gebruiker "camlinboy" tijdens de SCOOP nog een grapje hebben gemaakt over de situatie:
Mercier Knew for sure. He made a comment at 8 game table with Noel Hayes account during scoop when they began talking of the scoop razz. Mercier commented to Noel that he was the razz pro after making the wsop razz ft. When i looked up the wsop razz ft Stinger was the only one who made sense to be on the account. I asked about it in the june thread but no one seemed to know
En inderdaad, Brian Hastings werd vorig jaar vijfde in het $10.000 Razz event op de WSOP voor $64.557.
Naast het feit dat Hastings onder "NoelHayes" speelde om een voordeel te verkrijgen als zijn tegenstanders niet wisten dat hij achter de knoppen zat, zou het ook kunnen dat Hastings gebanned is op PokerStars en Full Tilt Poker en daardoor onder een nieuw account ging spelen. Gebruiker "danfiu" postte dat Hastings namelijk op 888poker gebanned zou zijn voor het spelen vanuit Amerika via een VPN-verbinding:
Dunno if it was mentioned but Brian got banned from 888 network for VPN-ing like 2-3 years ago after Black Friday along with some other pros.
Brian Hastings reageerde in het thread en ontkende de aantijgingen niet:
All,

I have been following the thread some but been very busy this summer playing the WSOP. I'm aware of the allegations, but at this time I have nothing to add to the conversation publicly. I stopped caring what strangers on the internet said or thought about me many years ago; otherwise I probably would've jumped off the deep end by now. What I do care about is something like this being a major story in the poker world at a time in which the WSOP is in full force and we should be trying to promote and grow the game of poker, rather than drag it through the mud. Think what you want about me, but one thing I have in common with most people reading this is that we love the game of poker and want to be able to play it freely in the comfort of our own homes. I'm moving back to PA soon to play 400/800 mix live and be closer to Sonya's and my parents, and state regulation of online poker would be a nice cherry on top.

I think especially those of us who are professional poker players should be taking steps to try to promote and grow the game, rather than feeling sorry for themselves because Cardrunners was founded, Black Friday happened, everybody is too good now, etc. With enough hard work, I truly believe that just about anyone (at least anyone smart enough to be browsing 2+2) can make a living playing poker in 2015. I think it's unfortunate that certain people have been on bad runs and choose to take their frustrations out outwardly rather than by trying to self improve, but I get it, it's certainly not always easy. I did not turn a profit in 2 of the previous 3 years, but with an improved mindset, an amazing woman in my life, and a strong work ethic, I've gotten my game back to where it needs to be.

This will be my last post in this thread. If you'd like to discuss further with me I'm just a PM away.

Brian
Oneerlijk voordeel voor Hastings in zijn bracelet-bets?
Mercier was een van de spelers die tegen Brian Hastings wedde in de veelbesproken bracelet-bets. Mercier was dus op de hoogte van Hastings online spel onder het "NoelHayes" account, maar veel anderen zouden dat niet zijn geweest. Sommige mensen die het tegen Hastings hebben opgenomen, moeten onder de indruk geweest zijn dat Hastings niet meer online speelde, en dus wellicht roestig was wat sommige spellen betreft.
@stevehungPOKER @DMBakes yup, made a bet believing he hadn't been playing mix online this year..... Oops

— Dylan Linde (@DylanLinde)
Hoe deed "NoelHayes" het online?
Volgens HighStakesDB staat het "NoelHayes" account $102.822 in de plus over 54.832 handen:
Volgens de door PokerStars niet toegestane Russische versie van PTR staat "NoelHayes" zelfs $159.000 in de plus:
"NoelHayes" deed het ook goed in de SCOOP dit jaar. Hij werd onder andere vierde voor $142.535 in de High ($2.100) editie van event 23 (no-limit hold'em), en hij ging diep in event 32 ($2.100 Razz).
Op Twitter is Noel Hayes actief als "@BigCityBanker". Op Full Tilt Poker is "BigNittyBanker" actief geworden in dezelfde tijd als "NoelHayes" online verscheen. Ook het "BigNittyBanker" account staat in ieder geval geregistreerd als afkomstig uit Ierland. We gaan er hierbij vanuit dat zowel het PokerStars-account "NoelHayes" als het Full Tilt Poker-account "BigNittyBanker" ooit aan de Ier Noel Hayes behoorde, maar 100% zeker is dat natuurlijk niet. Het "BigNittyBanker" account is niet te vinden op de Russische PTR, maar wel op HighStakesDB.com. Volgens de trackingsite staat "BigNittyBanker" bijna $460.000 in de min over een heel kleine sample:
Hoe komt Hastings aan het "NoelHayes" account?
Hoe kent een high stakes speler uit Amerika een Ierse low stakes grinder met een liefde voor paardenrennen? Het klinkt aanvankelijk onlogisch dat die twee beste vrienden zijn, maar we weten in ieder geval zeker dat Noel Hayes in Las Vegas is geweest in de tijd dat Brian Hastings er ook was. Niet alleen cashte Hayes in 2013 in een $1.500 event (110e voor $3.841), ook herinneren we ons dat hij tijdens diezelfde WSOP een keer updates tweete over een Open Face Chinese game van $3.000 per punt. De tweets zijn inmiddels verwijderd van zijn twitter-account, maar Nederpoker kopieerde destijds een update in een van hun artikelen.
The sick $3k point OFC is still ongoing in Aria. Gustav & Asian guy still in same clothes and haven't moved since yesterday. Russian looks
— Noel Hayes (@BigCityBanker) July 9, 2013
Raad eens wie er volgens de geruchten meespeelde in die game naast Tom Dwan, Phil Ivey en Gus Hansen, inderdaad; Brian Hastings. Wie weet zijn ze elkaar toen tegen gekomen? Misschien kenden ze elkaar al, of is er een zwarte markt voor accounts waar iedereen kan aanbieden en kopen? Wie het weet mag het zeggen.
Hastings geeft multi-accounting toe
Op 25 juni heeft David "Bakes" Baker een update geplaatst in het 2+2 topic. In het topic post Baker een screenshot van een persoonlijk bericht die Hastings aan Baker stuurde even daarvoor. Om het doorzoekbaar te houden, hebben we het persoonlijke bericht uitgeschreven hierbij:
I think t's ****ed up that you're not answering any of my attempts to reach out and just putting everything in public, but it's whatever. I've accepted that my rep is going to take a hit and I'll get through it.

I guess I'll remind you again, I HAD A FRIEND CONTACT YOU WHILE PLAYING THE SCOOP FT!!! I tried to tell you!

The path you're going on by making this a big public ordeal hurts parties more than it hurts me. I will right my wrong to the best of my ability given the situation I've put myself in.I'm not so sure others who are involved will be so lucky. On a macro level, you're creating a ton of awful PR for the game of poker, which we both love and would love to be able to play in the comfort of our homes in the country we were born in. This kind of PR is very bad for future regulation in the USA in the online poker industry, it just adds to the shady rep of online poker. Not to mention there are other big names in poker who could get dragged thru the mud when they really didn't do anything wrong.

If you want to continue playing poker for a living in 5 years, I think you should rethink how you're going about this. Again, I really don't care what you post about me, I care about the game of poker and the ability of Americans like you and me to make a living playing the game we love for years to come.

Making this the biggest story of WSOP at a time when the WSOP itself is losing its way and poker in America is at a crucial tipping point is just bad for the future of the game. Plain and simple.

I don't blame you for your anger, and Like I said on Skype message that I sent to you 2 nights ago and you haven't replied to, I'd be happy to compensatie you in equity for the sessions we played (including 2k SCOOP FT), my intent was never to gain an edge from deception, just to be able to play and live in the USA, where I have a wonderful network of friends and family that I just didn't have when I tried moving to Canada (which ended in me becoming depressed and moving back in with my parents for 4 months, hence the Tweets the other night).

I hope you can understand and we can be friends someday in the future. I know you're not a bad guy and you're a very talented player who's had a rough go of late, but you will rebound. I do disagree with how you've handled things though, and I don't think my motives are all that selfish (I was done playing on NH after this summer regardless of recent events).

Good luck,
BH
---
De 3 grootste potten van deze week
1) "Ravenswood13" wint een $49.422 pot (247 big blinds) van Ilari "Ilari FIN" Sahamies ($100/$200 PLO 3-handed)
"Ravenswood13" opende naar $488 en zowel Sami "Lrslzk" Kelopuro als Ilari "Ilari FIN" Sahamies callden. Met $1.464 in de pot kwam de flop



. Kelopuro checkte maar Sahamies bette $799,99 uit. "Ravenswood13" raisede naar $2.518,91 en Kelopuro foldde. Sahamies maakte de call.
De turn pairede het board met de

en "Ravenswood13" bette $4.987,90 in de $6.501,82 pot. Sahamies callde, en check-callde ook een potbet ter waarde van $16.477,62 bij het verschijnen van de

op de river. "Ravenswood13" showde




voor de tweede nuts, Sahamies muckte.
---
2) Nikita "fish2013" Bodyakovsky wint een $44.485 pot (222 big blinds) van Alex "Kanu7" Millar ($100/$200 NLHM 6-handed)
Nikita "fish2013" Bodyakovsky opende de hijack naar $600 en "candela2005" maakte de call vanuit de cutoff. Alex "Kanu7" Millar squeezede vanuit de kleine blind naar $2.600 en zowel Bodyakovsky als "candela2005" callden.
De flop kwam



en allemaal checkten ze waardoor de pot $8.000 bleef. De

verscheen op de turn en Millar checkte nogmaals. Bodyakovsky bette nu $3.198 en "candela2005" foldde, Millar maakte de call.
Met $14.396 in de pot verscheen de

op de river. Millar checkte nogmaals, en callde de overbet ter waarde van $15.044,50. Bodyakovsky liet


zien voor top-two, Millar kon zijn


in de muck gooien.
---
3) "Ravenswood13" wint een $41.651 pot (208 big blinds) van Sami "Lrslzk" Kelopuro ($100/$200 NLHM 3-handed)
Ilari "Ilari FIN" Sahamies opende naar $700 en "Ravenswood13" in de kleine blind maakte de call. Sami "Lrslzk" Kelopuro squeezede naar $2.800 en zijn beide tegenstanders callden.
Alle drie checkten ze de



flop dus er zat nog steeds $8.400 in de pot toen de

op de turn verscheen. "Ravenswood13" checkte nogmaals en Kelopuro bette $5.708,60. Sahamies af direct op, "Ravenswood13" maakte de call. De pot groeide daardoor naar $19.817,20 en de

maakte het board compleet. "Ravenswood13" checkte, en callde de push voor $10.916,99 van Kelopuro.
Kelopuro liet




zien voor een bluf met twee blockers. "Ravenswood13" toonde




voor een straat en kreeg de pot toegeschoven.
---
Het online klassement 2015
Net als vorige week is het rustig op de hoogste stakes. Van de top der winnaars en verliezers, kwam alleen Viktor Blom op PokerStars in actie. Hij verloor een beetje, maar behoudt de derde plek. Blom speelde niet op Full Tilt Poker, en ook Ivey was niet online.
| | | (gebruikers)naam | handen 2015 | winst/verlies 2015 | winst/verlies per hand in 2015 | winst/verlies alltime | ↑/↓ deze week | meest gespeelde spel 2015 |
| --- | --- | --- | --- | --- | --- | --- | --- | --- |
| | | winnaars | | | | | | |
| 1 | | "bbvisbadforme" | 7.863 | +$965.770 | +$122,84 | +$693.359 | - | Draw |
| 2 | | Ben "Sauce1234" Sulsky | 3.574 | +$743.015 | +$207,89 | -$401.359 | - | 8-Game |
| 3 | | Viktor "Isildur1" Blom | 59.816 | +$647.730 | +$10,82 | -$848.837 | ↓ | 8-Game |
| | | | | | | | | |
| | | verliezers | | | | | | |
| 1 | | Viktor "Isildur1" Blom | 62.701 | -$1.618.816 | -$25,81 | -$4.991.617 | - | Draw |
| 2 | | Phil "Polarizing" Ivey | 32.586 | -$1.227.809 | $-37,67 | -$6.294.220 | - | Draw |
| 3 | | Phil "RaiseOnce" Ivey | 24.024 | -$953.315 | -$39,68 | -$955.613 | - | Draw |
---
Periode resultaten online highstakes actie 18 tot 24 juni 2015
| | | (gebruikers)naam | handen periode | winst/verlies periode | winst/verlies 2015 | winst/verlies alltime |
| --- | --- | --- | --- | --- | --- | --- |
| | | Winnaars | | | | |
| 1 | | Sami "Lrslzk" Kelopuro | 1.444 | +$162.805 | - | - |
| 2 | | Rob "Vaga_Lion" Akery | 170 | +$55.076 | +$56.456 | +$1.360.355 |
| 3 | | CooL1992 | 474 | +$52.430 | - | - |
| 4 | | David "Deldar182" Eldar | 146 | +$38.427 | - | - |
| 5 | | Debilne_Ucho | 2.321 | +$37.639 | +$173.448 | +$415.420 |
| 6 | | jamadharma | 797 | +$33.515 | +$120.763 | +$468.642 |
| 7 | | muha84 | 215 | +$27.861 | - | - |
| 8 | | +EV Plays | 164 | +$26.535 | - | - |
| 9 | | M.O.P. | 1.577 | +$26.214 | - | - |
| 10 | | candela2005 | 789 | +$25.886 | -$20.492 | -$360.317 |
| | | | | | | |
| | | Verliezers | | | | |
| 1 | | Cole "cts687" South | 158 | -$86.379 | - | - |
| 2 | | Ilari "Ilari FIN" Sahamies | 600 | -$60.517 | +$184.088 | +$2.013.586 |
| 3 | | Alex "Kanu7" Millar | 248 | -$54.472 | -$323.817 | +$3.107.013 |
| 4 | | ICEMAN2710 | 351 | -$45.048 | -$45.048 | -$45.048 |
| 5 | | hhecklen | 3.618 | -$41.233 | -$103.699 | -$72.426 |
| 6 | | avd7a | 1.191 | -$38.321 | - | - |
| 7 | | Ravenswood13 | 272 | -$38.312 | - | - |
| 8 | | AScorp81 | 191 | -$36.808 | -$36.808 | -$36.808 |
| 9 | | D1em | 309 | -$36.699 | -$39.926 | -$15.098 |
| 10 | | goref | 1.356 | -$31.139 | -$18.346 | +$49.145 |