Tweet Tweet Bad Beat - Ferguson wordt uitgescholden, Bonomo neemt het op voor vrouwen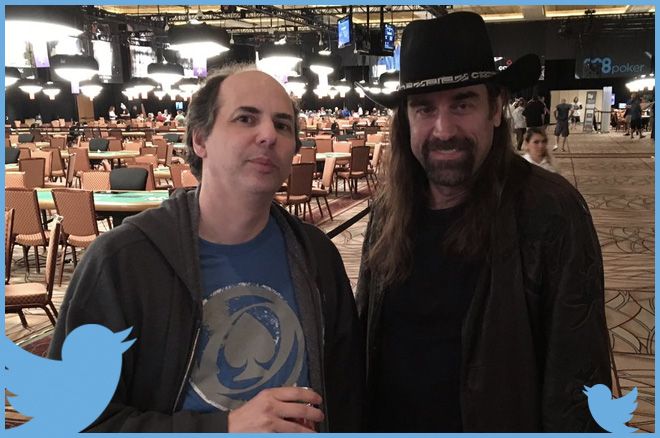 Chris "Judas" Ferguson is terug
Vorige week brachten we al het nieuws dat Chris Ferguson uit het niets weer mee deed aan de WSOP. Een glazen bol was niet nodig om te voorzien dat er een paar geërgerde mensen de heer Ferguson zouden laten weten niet blij te zijn. En zo geschiedde:
Maybe a tad childish but definitely deserved #FeelingBetter pic.twitter.com/LEj5YHaJ8y

— shawn daniels (@STANobv) June 5, 2016
Bonomo schrijft over zijn ervaring op de WSOP
De laatste tijd is feminisme een belangrijk onderwerp geworden in de pokerwereld. Met de vocale Cate Hall en Vanessa Selbst, en het in de publiciteit brengen van nogal wat zaken bij Poker Night in America door Jaclynn Moskow, staat het gevoelige onderwerp weer op de kaart. In een wereld gedomineerd door mannen is het alleen maar goed om ook eens met de neus op de feiten gedrukt te worden hoe het is om als dame te spelen.
Sommige mannelijke spelers gaan daar verder in dan anderen, met Justin Bonomo als uiterste van het spectrum. Bonomo, met een roze coupe tegenwoordig, ging gisteren zitten voor zijn eerste toernooi van deze WSOP, en er waren direct nogal wat dingen die hem opvielen:
Omdat hij voor het publiceren gebruik heeft gemaakt van de service TweetLonger, gaan we er vanuit dat hij er geen moeite mee heeft als we het stuk in zijn geheel delen. Dus hier de inhoud van zijn blog:
Niet iedereen sloot zich aan bij Bonomo. Naast enkele positieve reacties, was het gros van de mensen minder tevreden met de blog van Bonomo.
Candace Collins, de dame waar Bonomo naar refereerde in zijn blog, sloot zich niet helemaal aan bij zijn observaties:
Het feit dat de dame in kwestie het zelf niet als al te hinderlijk zou hebben ervaren, doet niet per definitie iets af aan zijn kritiek. Maar alsnog kreeg hij zelf meer hoon te verdragen:
Cate Hall had vorige week overigens ook al een puntje van kritiek. In de wereld van vandaag is het niet meer dan normaal om schaars geklede dames te hebben die dingen aanprijzen, maar deze dame lijkt wel heel erg willekeurig erbij getrokken om het beeld compleet te maken.
Kessler Versus Liebert
Kathy Liebert, ken je haar nog? En Allen Kessler? Beiden zijn niet de grootste sterren in de pokerwereld, maar ze hebben wel beiden een Twitter-account waar via ze hun mening delen met de wereld. Nadat Kessler onlangs klaagde over een handje uit het dealers choice event, had Liebert er genoeg van:
David Williams in Master Chef
MasterChef is een programma dat inmiddels in meer dan 40 landen wordt gemaakt. In Nederland hebben we onder andere de Amerikaanse, Engelse, Australische en Nieuw-Zeelandse versie op tv gehad naast onze eigen versie met Julius Jaspers. In Amerika wordt het programma gepresenteerd door Gordon Ramsey.
Aan het nieuwste seizoen doet een oude bekende van ons mee. David Williams, voormalig (Bodog en) PokerStars Pro, wist zich van een plaatsje te verzekeren. We zagen hem al voorbij komen in de trailer voor het nieuwe seizoen (waar hij al huilend het schort in de ring wil gooien):
Are you ready for the most intense season of #MasterChef yet? The new season starts Wednesday, June 1 on @FOXTV!https://t.co/mMil8ue14P

— MasterChef (@MASTERCHEFonFOX) April 30, 2016
Gordon gaf zelf op twitter nog even aan hoe een goede kok Williams wel niet was:
Inmiddels is de eerste uitzending online verschenen, waarbij Williams iemand moest verslaan om deel te mogen nemen. Dat hij dat ging winnen, wisten we al omdat hij in de trailer voor het seizoen zat, maar toch:
Boeree is een celebrity!
Je hebt het pas echt gemaakt in het leven, als je beeltenis gebruikt wordt op een kermisattractie in Frankrijk. Boeree is vanaf nu onsterfelijk. In ieder geval tot de exploitant kiest voor een nieuw likje verf: