Tweet, Tweet, Bad Beat - Phil Hellmuth en de vele celebrity's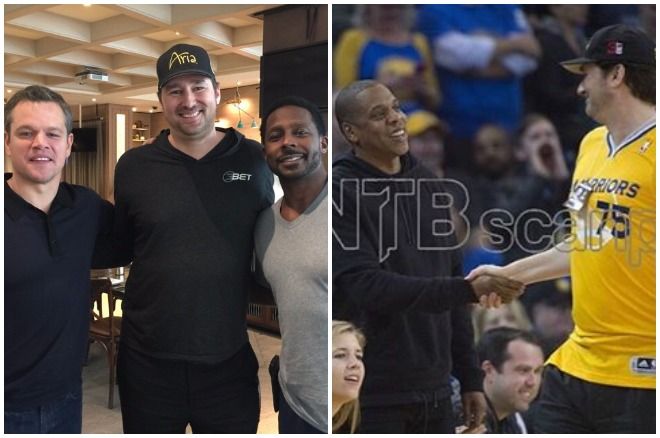 Hij won de meeste WSOP-bracelets in de geschiedenis van dé toernooiserie van het jaar, maar Phil Hellmuth valt de laatste jaren vooral op door alle celebrity's waar hij mee gezien wordt. Het lijkt er zelfs op dat iedereen Hellmuth kent en hij vooral de celebrity is.
Blij om elkaar te zien!
Pokerspelers zijn natuurlijk ook liefhebbers van sport.
Natuurlijk staat hij ook op de set bij Billions, want hij lijkt door iedereen te worden herkend.
En er is meer:
En meer:
En is oranje de nieuwe kleur voor Phil Hellmuth? #orangeisthenewblack
Wil je nog meer zien?
Natuurlijk.
Oké, we hebben het door. Iedereen kent je:
Kijk wie ik nu weer tegen kom
Als we naar elkaar wijzen lijkt het alsof we beste vrienden zijn. #not #awkward
Ha. Hellmuth: 'I'm so cool that I just happened upon Jay Z at this game and I didn't even take this photo personally. How crazy is that?'
'I mean, he's so cool. What can I say? We're both awesome.' Damian Lewis: Uh.
Nog een onzekere deelnemer:
'You may not know him, but I do and that's all that matters.'
Een van de eerste keren dat Hellmuth enthousiast werd van een celebrity.
Nee hoor, Hellmuth was op jonge leeftijd al een fanboy:
Je gaat niet elke dag naar de training van de Olympische basketballers, maar als je gaat moet je er natuurlijk wel over posten:
MY SQUAD
Deze kinderen lijken misschien niet erg bekend, maar de één is een Disney Channel-ster en de andere is Teen Wolf. #fortheyoungins
LIT AF.
Mijn connecties hebben connecties.
'I don't know what to do with my hands.'
#statussymbol
Best friends forever, yeah, yeah, yeah.
Omdat ik ook interesse heb in de politiek.
Ik ben benieuwd wat de verkiezing met deze relatie heeft gedaan.
Da real MVPs.
We kunnen de 'brat packers' niet vergeten.
'This is my posse always. You don't have a camera that follows you around? Oh, weird.'
'Oh, you don't have a personal pilot? Well, I do and he's related to me because he plays poker.'
Elke minuut is wel een goed moment voor een foto:
'HA. Just kidding. It's just me.'
Twitter liet ons niet verder terugkijken, maar laten we eerlijk zijn? We zijn allemaal wel een beetje jaloers. #goforthandconquer #hellmuthfordays
All photos courtesy of Phil Hellmuth social media