PokerStars maakt toernooischema van $15 Million GTD Turbo Series bekend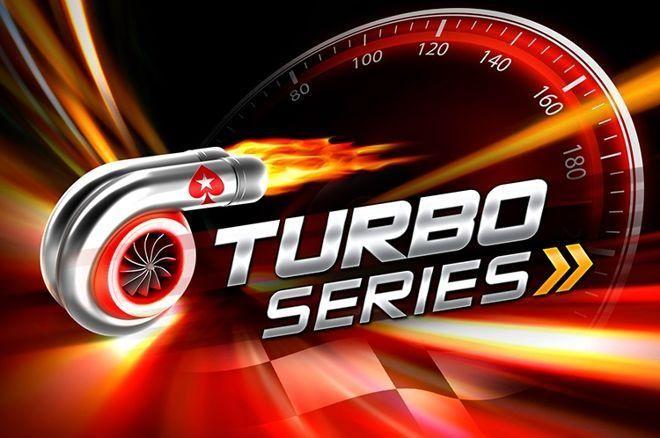 De populaire toernooiserie Turbo Championship of Online Poker (TCOOP) bij PokerStars werd dit jaar niet georganiseerd, maar het concept blijft wel bestaan. Vanaf heden zal de toernooiserie door het leven gaan als de Turbo Series en deze nieuwe editie zal bestaan uit 74 events met buy-ins van $11 tot $5.200.
De toernooiserie zal worden gehouden van 18 februari tot en met 4 maart met $15 miljoen in gegarandeerde prijzen en nog eens $90.000 in toegevoegde waarde in de vorm van drie Platinum Passes voor het PokerStars Players No-Limit Hold'em Championship.
"The Turbo Series is a great opportunity for players of all levels to play in a fun and fast-paced series that is guaranteed to be one of the most enjoyable events of the year," zegt PokerStars Director of Poker Innovation and Operations Severin Rasset.
Toernooischema
| Datum | Tijd | Event | Guarantee |
| --- | --- | --- | --- |
| 18-02 | 20:00 | Turbo Series 01: $109 NLHE, $500K Gtd | $500.000 |
| 18-02 | 22:00 | Turbo Series 02: $215 NLHE [Progressive KO], $400K Gtd | $400.000 |
| 18-02 | 22:00 | Turbo Series 03: $530 NLHE [6-Max, Hyper-Turbo, Sunday Supersonic SE], $400K Gtd | $400.000 |
| 19-02 | 16:00 | Turbo Series 04: $55 NLHE, $100K Gtd | $100.000 |
| 19-02 | 18:00 | Turbo Series 05: $109 NLHE [6-Max, Progressive KO, Win the Button], $150K Gtd | $150.000 |
| 19-02 | 20:00 | Turbo Series 06: $530 NLHE [8-Max], $250K Gtd | $250.000 |
| 19-02 | 22:00 | Turbo Series 07: $215 5-Card PLO [6-Max], $50K Gtd | $50.000 |
| 19-02 | 00:00 | Turbo Series 08: $215 NLHE [Heads-Up, Progressive Total KO, Zoom], $100K Gtd | $100.000 |
| 20-02 | 16:00 | Turbo Series 09: $109 NLHE [5-Stack], $75K Gtd | $75.000 |
| 20-02 | 18:00 | Turbo Series 10: $215 HORSE, $50K Gtd | $50.000 |
| 20-02 | 20:00 | Turbo Series 11: $215 NLHE [Bubble Rush], $250K Gtd | $250.000 |
| 20-02 | 22:00 | Turbo Series 12: $530 NLHE [6-Max, Progressive KO], $300K Gtd | $300.000 |
| 20-02 | 00:00 | Turbo Series 13: $55 NLHE [8-Max], $100K Gtd | $100.000 |
| 21-02 | 16:00 | Turbo Series 14: $215 NLHE [8-Max], $150K Gtd | $150.000 |
| 21-02 | 18:00 | Turbo Series 15: $11+R NLHE [Splash], $100K Gtd | $100.000 |
| 21-02 | 20:00 | Turbo Series 16: $109 NLHE [6-Max, Progressive KO], $300K Gtd | $300.000 |
| 21-02 | 22:00 | Turbo Series 17: $109 FLO8 [8-Max], $40K Gtd | $40.000 |
| 21-02 | 00:00 | Turbo Series 18: $215 NLHE, $150K Gtd | $150.000 |
| 22-02 | 16:00 | Turbo Series 19: $55 NLHE [4-Max, Progressive KO], $150K Gtd | $150.000 |
| 22-02 | 18:00 | Turbo Series 20: $109 NLO8 [8-Max], $50K Gtd | $50.000 |
| 22-02 | 20:00 | Turbo Series 21: $215 NLHE, $250K Gtd | $250.000 |
| 22-02 | 22:00 | Turbo Series 22: $530 NLHE [8-Max], $250K Gtd | $250.000 |
| 22-02 | 00:00 | Turbo Series 23: $55 NLHE [6-Max, Shootout], $50K Gtd - NO LATE REGISTRATION | $50.000 |
| 23-02 | 16:00 | Turbo Series 24: $27 NLHE [Escalating Antes], $100K Gtd | $100.000 |
| 23-02 | 18:00 | Turbo Series 25: $109 NLHE [8-Max], $150K Gtd | $150.000 |
| 23-02 | 20:00 | Turbo Series 26: $530 NLHE, $250K Gtd | $250.000 |
| 23-02 | 22:00 | Turbo Series 27: $109 PL Badugi, $25K Gtd | $25.000 |
| 23-02 | 00:00 | Turbo Series 28: $55 NLHE [6-Max, Hyper-Turbo, Progressive Total KO], $100K Gtd | $100.000 |
| 24-02 | 16:00 | Turbo Series 29: $109 NLHE, $150K Gtd | $150.000 |
| 24-02 | 18:00 | Turbo Series 30: $109 NL 5-Card Draw, $25K Gtd | $25.000 |
| 24-02 | 20:00 | Turbo Series 31: $55 NLHE [6-Max], $200K Gtd | $200.000 |
| 24-02 | 22:00 | Turbo Series 32: $215 NLHE [Progressive KO], $250K Gtd | $250.000 |
| 24-02 | 00:00 | Turbo Series 33: $109 NLHE [Zoom], $100K Gtd | $100.000 |
| 25-02 | 16:00 | Turbo Series 34: $109 NLO [6-Max], $75K Gtd | $75.000 |
| 25-02 | 18:00 | Turbo Series 35: $215 NLHE [6-Max], $250K Gtd | $250.000 |
| 25-02 | 20:00 | Turbo Series 36: $109 NLHE [Progressive KO], $500K Gtd | $500.000 |
| 25-02 | 22:00 | Turbo Series 37: $1,050 NLHE [8-Max], $300K Gtd | $300.000 |
| 25-02 | 00:00 | Turbo Series 38: $215 NLHE [6-Max, Hyper-Turbo, Progressive KO, Sunday Supersonic SE], $300K Gtd | $300.000 |
| 26-02 | 16:00 | Turbo Series 39: $55 NLHE [6-Max], $100K Gtd | $100.000 |
| 26-02 | 18:00 | Turbo Series 40: $109 NLHE [8-Max, Progressive KO], $150K Gtd | $150.000 |
| 26-02 | 20:00 | Turbo Series 41: $27+R NLHE, $150K Gtd | $150.000 |
| 26-02 | 22:00 | Turbo Series 42: $109 PLO8 [6-Max], $75K Gtd | $75.000 |
| 26-02 | 00:00 | Turbo Series 43: $215 NLHE, $150K Gtd | $150.000 |
| 27-02 | 16:00 | Turbo Series 44: $55 NLHE [Reverse Bubble Rush], $100K Gtd | $100.000 |
| 27-02 | 18:00 | Turbo Series 45: $109 FLHE [6-Max], $40K Gtd | $40.000 |
| 27-02 | 20:00 | Turbo Series 46: $215 NLHE [6-Max], $250K Gtd | $250.000 |
| 27-02 | 22:00 | Turbo Series 47: $530 NLHE [Progressive KO], $250K Gtd | $250.000 |
| 27-02 | 00:00 | Turbo Series 48: $109 NLHE [4-Max, Shootout], $100K Gtd - NO LATE REGISTRATION | $100.000 |
| 28-02 | 16:00 | Turbo Series 49: $215 NLHE, $150K Gtd | $150.000 |
| 28-02 | 18:00 | Turbo Series 50: $55 NLHE [5-Stack], $100K Gtd | $100.000 |
| 28-02 | 20:00 | Turbo Series 51: $1,050 NLHE [8-Max, Progressive KO], $300K Gtd | $300.000 |
| 28-02 | 22:00 | Turbo Series 52: $1,050 PLO [6-Max], $150K Gtd | $150.000 |
| 28-02 | 00:00 | Turbo Series 53: $55+R NLHE, $100K Gtd | $100.000 |
| 01-03 | 16:00 | Turbo Series 54: $55 NLHE [Progressive KO], $100K Gtd | $100.000 |
| 01-03 | 18:00 | Turbo Series 55: $109 NL 2-7 Single Draw, $25K Gtd | $25.000 |
| 01-03 | 20:00 | Turbo Series 56: $215 NLHE, $250K Gtd | $250.000 |
| 01-03 | 22:00 | Turbo Series 57: $530 NLHE [6-Max], $250K Gtd | $250.000 |
| 01-03 | 00:00 | Turbo Series 58: $109 NLHE [Escalating Antes], $100K Gtd | $100.000 |
| 02-03 | 16:00 | Turbo Series 59: $215 NLHE [8-Max, Win the Button], $150K Gtd | $150.000 |
| 02-03 | 18:00 | Turbo Series 60: $109+R NLHE, $100K Gtd | $100.000 |
| 02-03 | 20:00 | Turbo Series 61: $530 NLHE [6-Max, Progressive KO], $250K Gtd | $250.000 |
| 02-03 | 22:00 | Turbo Series 62: $215 NLO8 [6-Max, Hyper-Turbo, Progressive KO], $75K Gtd | $75.000 |
| 02-03 | 00:00 | Turbo Series 63: $55 NLHE [6-Max], $100K Gtd | $100.000 |
| 03-03 | 16:00 | Turbo Series 64: $55 NLHE [4-Max, Progressive KO], $150K Gtd | $150.000 |
| 03-03 | 18:00 | Turbo Series 65: $530 8-Game, $50K Gtd | $50.000 |
| 03-03 | 20:00 | Turbo Series 66: $530 NLHE [8-Max], $250K Gtd | $250.000 |
| 03-03 | 22:00 | Turbo Series 67: $11+R NLHE [Splash], $100K Gtd | $100.000 |
| 03-03 | 00:00 | Turbo Series 68: $215 NLHE [4-Max, Progressive KO, Zoom], $150K Gtd | $150.000 |
| 04-03 | 16:00 | Turbo Series 69: $215 PLO [6-Max], $75K Gtd | $75.000 |
| 04-03 | 18:00 | Turbo Series 70: $5,200 NLHE [8-Max, High Roller], $500K Gtd | $500.000 |
| 04-03 | 20:00 | Turbo Series 71: $55 NLHE [Twin Turbos Main Events], $1M Gtd - 1x Platinum Pass Package Added | $1.000.000 |
| 04-03 | 20:00 | Turbo Series 72: $1,050 NLHE [Twin Turbos Main Events], $2.5M Gtd - 1x Platinum Pass Package Added | $2.500.000 |
| 04-03 | 22:00 | Turbo Series 73: $109 NLHE [8-Max, Progressive KO], $300K Gtd | $300.000 |
| 04-03 | 00:00 | Turbo Series 74: $215 NLHE [6-Max, Hyper-Turbo, Sunday Supersonic SE], $300K Gtd | $300.000 |
De Stars Group heeft een groot gedeelte van de aandelen van iBus Media