LATB, WSOP, PokerStars en meer over beveiliging van hun livestreams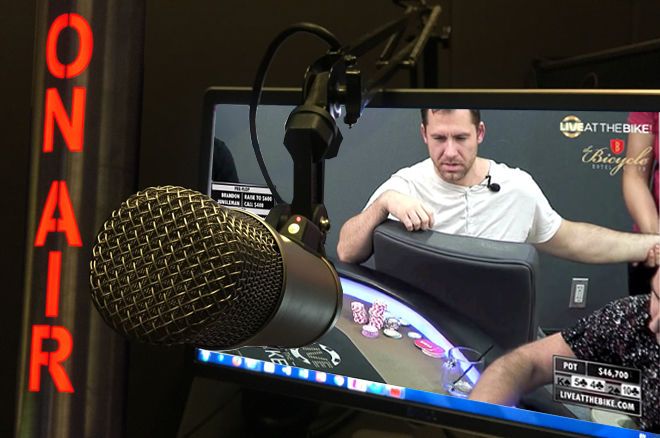 "If you were this good, why would you be playing in games only with a video feed at a $1/$3 table at Stones poker room? Why wouldn't you be in Vegas, winning all the money in the world?"
Scott Van Pelt sloeg vorige week de spijker op de kop bij ESPN toen hij het Mike Postle-schandaal besprak bij "SportsCenter".
Iedereen die zich in de zaak heeft verdiept, of die ten minste een van de vele artikelen heeft gelezen die hier over het onderwerp zijn geproduceerd, weet het antwoord: Postle had naar verluidt een oneerlijk voordeel bij Stones dat hij nergens anders zou hebben gehad.
In de rechtszaak die tegen hem is aangespannen wordt beweerd dat hij hulp had van een of meer personen bij de productie van de livestream-show. Als Postle naar een ander casino zou gaan, zou hij niet in staat zijn om te trekken wat hij naar verluidt deed bij Stones.
Wat de pokerwereld heeft gealarmeerd, is niet alleen dat Postle naar verluidt de lokale Sacramento-pokercommunity heeft opgelicht voor meer dan $300.000. Het is de implicatie dat als Postle dit in zijn lokale game kan doen, hij het wellicht ook in andere vestigingen zou kunnen doen.
"Ultimately, these systems are only as secure as the people you entrust them to."
PokerGFX-oprichter Andrew Milner, wiens bedrijf helpt bij de productie van veel livestreams, waaronder die bij Stones, zei het het beste: "Ultimately, these systems are only as secure as the people you entrust them to."
Of het nu RFID, good old hole card-camera's of een ander systeem is, iemand heeft in realtime toegang tot de hole cards. De beveiliging en de protocollen op een locatie of show bepalen hoe cheat-proof de productie uiteindelijk zal zijn.
PokerNews nam contact op met verschillende operators die poker live streamen met hole card-informatie om te vragen welke maatregelen zij hebben genomen om valsspelen te voorkomen. Omdat de meeste hun aandacht richten op toernooien, vroegen we ook wat het proces was om te selecteren wie er op de televisietafel zou spelen ​​als deze nog niet naar een finaletafel zou gaan.
Op het moment van schrijven werden geen reacties ontvangen van 888poker en Triton Poker, terwijl partypoker en de Aussie Millions weigerden commentaar te geven.
We plaatsen deze opmerkingen ongewijzigd, met slechts enkele kleine bewerkingen voor leesbaarheid.
---

World Series of Poker
De World Series of Poker organiseert livestreams voor hun evenement in Las Vegas en de WSOP Europe in Rozvadov, evenals tal van WSOP International Circuit-evenementen. Hun WSOP-streams kunnen worden bekeken via PokerGO.
"First to be clear, we are not going to comment on this specific situation as we don't have all the facts or insight into this casino's operations for livestreams. The WSOP has not and have no plans to livestream cash games. With tournaments, the randomness of who reaches final tables makes it much more difficult to breach integrity.
"For WSOP livestreams, we have very specific protocols in place [...] all centered on ensuring integrity."
For WSOP live streams, we have very specific protocols in place (and many requirements by the Nevada Gaming Commission), all centered on ensuring integrity. We employ a clear separation of church and state, so to speak, as it relates to production personnel versus tournament staff.
There are a lot of procedures in place that are critical to minimizing potential opportunity. Among them are:
The chain of command for RFID cards
The software used to read the cards
The setup of servers
The segregation of hole card graphics
Internet access restrictions
Cell phone protocols for players and production staff
Location and security of "peeker" room
And the list really does go on and on from there. While no one can "guarantee," the WSOP believes it employs industry-leading protocols with the integrity of the game as the utmost requirement.
Players should also know, the Nevada Gaming Commission is their independent advocate and watchdog. The Commission is there to address player concerns after the fact, and of course, is there before and during our live streams to verify procedures, strength test and monitor all our livestream activities.
So in a worst-case scenario, there is recourse; a clear investigation process from a regulator, and a gaming license in jeopardy for the operator. Game integrity is paramount to the WSOP's operations, and players can feel very confident that we are doing all we can to properly balance growing the game without allowing any unnecessary risk to tournament operations."
---

Poker Central/PokerGO
PokerGO is de thuisbasis van de WSOP, evenals talloze andere pokershows, inclusief livestreams en on-demand content.
"Hole card security is by far the most important part of our production. As the first poker production company in the industry, we pioneered poker on TV, expanding across digital, and evolving with the latest innovations. We are confident in our record of integrity and the fairness of all events and shows our team has produced over the last 17 years.
However, we understand that once a cheating incident looms somewhere in the poker world, players and audiences can have questions that we must address in order to maintain our community's confidence in the integrity of all Poker Central tournaments and games. We have a multi-layered security process with checks and balances that include cutting-edge technology.
"Hole card security is by far the most important part of our production."
In an attempt to put the community's collective mind at ease and address many questions asked by players, we are sharing a few details of our security process noted below. Please keep in mind that these explanations are broad strokes — we have withheld select smaller details of our process for the sake of brevity.
First, we track hole cards using a secure system involving "hole cams" as a back-up to our current and modern method, RFID. The RFID technology system is layered with safeguards to ensure all metadata for each card is carefully identified, tracked, and unalterable.
During play, hole cards are reviewed by operators who have received background checks and clearance by government agencies. Access to live hole card information during our productions is restricted to only these licensed operators with occasional oversight from gaming officials to ensure all parties involved are performing to the highest of standards. There is no other production personnel with access to live hole cards. Additionally, we have protections implemented to safeguard our closed network from unauthorized access. These security measures, in place before, during, and after play concludes, leave no room for cheating to happen without us knowing.
We are happy to provide more details on our security systems for any interested parties and believe that transparency and honesty is the only way to keep the poker community thriving. We will continue to host all of our tournaments, shows, and events to meet and exceed these standards, and we appreciate your faith in us."
---

Live at the Bike
Live at the Bike is de langstlopende poker livestream die beschikbaar is op internet. Gehost in het beroemde The Bicycle Casino in Los Angeles, streamen ze via liveatthebike.com en hun YouTube-kanaal.
"Joker Gaming, LLC has been producing the 'Live at the Bike!' streaming show since 2004. We join with the Bicycle Hotel and Casino in a strong commitment to protecting the game's integrity. We have never experienced any violations of the software or computer systems utilized in our production.
"We are confident that our system and security measures are fully protecting players' information"
There are numerous measures in place to ensure the security of the card information, and we continue to be proactive in working with the Bike to implement new security measures from time to time.
Recently, we have begun studying all the defrauding hypotheses put forth by the poker community to better understand the allegations and take preventative measures if necessary.
We are confident that our system and security measures are fully protecting players' information when playing at 'Live at the Bike!'."
---

PokerStars
PokerStars organiseert pokertoernooien over de hele wereld, waaronder de bekende European Poker Tour. Ze streamen hun evenementen live via Twitch, YouTube, en PokerStars.tv.
"PokerStars takes the integrity of our live events broadcasting very seriously. For our Tier 1 events, we have developed bespoke, proprietary technology to ensure that sensitive data is fully protected and is unable to be sent or accessed outside of the event itself. This system was built from the ground up with security at the top of the list of priorities, and features in-built measures to protect against human error.
"This system was built from the ground up with security at the top of the list of priorities"
All staff and crew working on these broadcast streams are fully vetted, trusted members of staff or broadcast professionals and within this team, the number of people who have access to sensitive information is strictly limited. Any information that is sent externally, for example to commentators or Run It Up, is public access data.
There are many measures we take on top of this to ensure that security is not compromised including:
Players are not permitted to use their phones when in a hand and players on the final table are not allowed to use headphones. They must also surrender their mobile phones which are kept in a safe box monitored by tournament staff and can only be accessed during tournament breaks
Mobile phones are not permitted in the cards-up area, which is cordoned off and monitored by security teams and CCTV
We have a range of criteria for selecting feature table players (Ambassadors, celebrities, personalities, action, table talk, breaking order, chips on table) – no one can guarantee being on a feature table, and therefore in a cards-up situation
We never interfere with the breaking order of movement of players as the tournament plays down to its conclusion – we make any decisions about feature tables based on the published breaking order
We constantly review existing measures based on learnings, evolving technology, player feedback and of course, what we see happening elsewhere in the poker world."
---

Unibet Open
De Unibet Open bestaat sinds 2008 en organiseert vier events per jaar. Ze livestreamen sit-n-gos en hun volledige evenementen via Twitch en YouTube.
"Unibet is part of Kindred Group, an international gambling company, that has always taken great care to ensure the safety and integrity of its customers.
"We are confident in [...] their ability to guarantee the system's integrity at all times."
These aspects are also an integrated part of our group strategy and fundamental to our ability to run a sustainable business as a listed company, which is why we partner with companies who share our high level of customer safety. Unibet Open has worked with our trusted partner Sharehand since 2012, and we are confident in their ability to spot and prevent unusual behavior, as well as their ability to guarantee the system's integrity at all times."
---

World Poker Tour
De World Poker Tour is de belangrijkste pokertour in de Verenigde Staten met succesvolle spin-offs in de evenementen WPTDeepStacks, WPT500 en WPT National. Verschillende van hun events worden opgenomen voor televisie, en sommige events worden via hun YouTube-kanaal op de wereld uitgezonden.
"The WPT takes security as a paramount priority"
"While the WPT takes security as a paramount priority, the WPT does not publicly disclose the security protocols of its global casino partners or its livestream providers for security reasons."
---

Run It Up
Jason Somerville's Run It Up events zijn een leuke bijeenkomst voor zowel pokerfans als professionals. Hun live-evenementen worden via hun Twitch-kanaal uitgezonden.
"We take game integrity seriously and have been paying close attention to the Postle allegations, especially to learn anything about potential weaknesses in our system. Our Run It Up Reno tournaments are all licensed and operated under the Nevada Gaming Commission. Hole card data is transmitted via hardline fiber and never is transmitted across the internet until the delay is in place.
"In accordance with the gaming commission's rules, our operation is thoroughly vetted by commission agents multiple times during the event."
In accordance with the gaming commission's rules, our operation is thoroughly vetted by commission agents multiple times during the event. As per their requirements, an armed security guard is at all times posted outside the peek room, with only licensed personnel allowed inside.
Our feature tables are usually first selected based on personalities, and then rotated at each break until we reach the final table.
We do not use the option in PokerGFX to share the stream. That setup requires considerable effort and planning to enable, which we have not and do not intend to do."
De Stars Group bezit een meerderheidsbelang in iBus Media, het moederbedrijf van PokerNews.